Laura Bell
Cross Utilized Agent
From touching a stingray to letting a lorikeet land on your arm and sip nectar out of a cup, there are countless reasons to visit the Aquarium of the Pacific in Long Beach, Calif. – and millions do every year.
Situated along the coast of the Pacific Ocean and a convenient 10 miles from the Long Beach Airport, the aquarium is filled with incredible exhibits with more than 11,000 animals on display. This includes the 10,000 square-foot Shark Lagoon where it's easy to see all three rows of a sand tiger shark's teeth as the 10-foot-long, 350-pound creature swims next to the glass open-mouthed. There are also the epaulette and bamboo sharks that can be touched with two fingers in the shallow, above-ground pools. And for those looking for an even greater in-depth experience, the Aquarium provides a two-hour shark encounter on Saturdays and Sundays (book and pay in advance) that includes a chance to touch more exotic sharks and participate in their feeding! Additional encounters will take visitors behind-the-scenes to spend time with penguins, sea otters, seals and sea lions.
An unexpected bonus at the Aquarium is the Lorikeet Forest. This 3,200-foot aviary is alive with color and commotion, and filled with 10-inch lorikeets that will hop onto hands, shoulders and heads in search of nectar (available for purchase in a small cup). At times, a pair of these colorful Australian birds may decide to partake in the sugary substance! As a bonus, they are completely comfortable around excited children and never shy away from the click of a camera.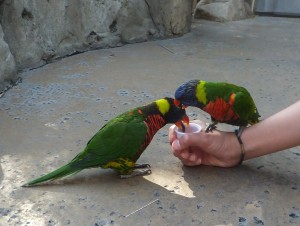 After interacting with the animals and watching them eat, visitors can conveniently satisfy their own appetite with a stop at the Cafe Scuba. Come hungry and enjoy the environmentally friendly and sustainable seafood, as well as burgers, fries, vegetarian items or pizza – all while overlooking the sea lion and seal exhibits!
The Aquarium of the Pacific, the largest in Southern California and the fourth most-frequented in the United States, is open daily except Christmas Day and during the Grand Prix of Long Beach (April 11-13, 2014).
After flying into the Long Beach Airport or one of the other nearby Southern California airports served by SkyWest Airlines, catch a free ride to the Aquarium by hopping on a bright red Passport bus from the downtown or beach bus stop. Book you visit today!