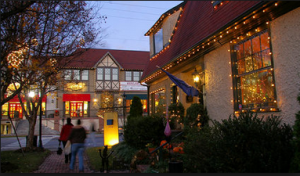 Escape the hustle and bustle, and embrace the charm and magic of a more personal holiday experience by visiting Asheville, N. C. Asheville embodies the holiday spirit of yesteryear and is the ideal destination to shop at independently owned boutiques in pedestrian-friendly neighborhoods and to take advantage of unmatched holiday experiences.
Strolling through Asheville's downtown area – filled with unique shipping districts –is the perfect time to relax and enjoy the smell of evergreens and crisp mountain air. The area has been dubbed the "Paris of the South" and provides an array of shopping opportunities, which includes everything from local textile artisans to goldsmiths. At Biltmore Village, located across from the entrance to Biltmore Estate, visitors will discover yard art, Victorian-themed Christmas ornaments and fashion-forward clothing. The River Arts district houses some of Asheville's best known artists and their displays of ceramics, painting, photography, fiber arts, metal and woodworking – all with a modern twist. Having such a wide variety of shopping options makes it a snap to find something for everyone on the holiday shopping list!
Of course, Asheville is more than just shopping. There is a rich atmosphere of performance art and activities for the entire family to enjoy during the holiday season. Catch a performance of Asheville Symphony's Classical Christmas or tour the Lake Julian Festival of Lights – a drive-through spectacle lit with thousands of lights and more than 50 animated and stationary light displays. Another must see is the National Gingerbread House Competition where they feature some incredible creations in this 20-year competitive tradition. From whimsical to elaborate, there are houses of all sizes, shapes and complexities from pastry chefs and celebrity food stars across the nation.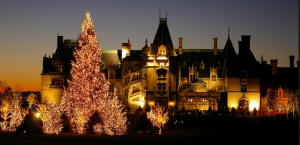 And a holiday visit to Asheville wouldn't be complete without a stop at the Biltmore Estate. Officially opened on Christmas Eve in 1895 to family and friends with a lavish holiday party, guests continue to be welcomed to America's largest home. The estate offers a magical journey into an extravagant past. Holiday evenings within are filled with a warm glow from candles and fireplaces that accent the delicate ornaments and priceless treasures throughout the mansion. Dozens of Christmas trees, miles of ribbon and thousands of ornaments all contribute to a picture perfect Victorian-style Christmas experience.
With such an array of unique experiences in such a visually stunning part of the country, Asheville offers an unparalleled holiday experience. Book a trip now at United.com and start celebrating!