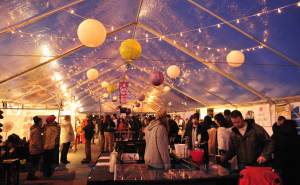 Experience the Best of Winter at Bend Oregon's Annual WinterFest!
The winter doldrums can be difficult to beat, but those looking for an exciting winter outing to get out of that post-holiday rut look no further than Bend, Oregon's annual WinterFest, coming Feb. 15-17, 2013.
Officially dubbed the "On Point Community Credit Union WinterFest", this three-day event attracts thousands from across the Northwest with events and activities that showcase the best the season has to offer. Watch snowboarders and skiers catch some serious air at the aptly-named U.S. Cellular Big Air Show or enjoy a death-defying motorcycle show. Watch as local talent carves ice and snow into breathtaking sculptures, sway to live music provided by national rock artists, and savor the fine food, art displays. The family-friendly event also offers carnival games and activities for kids!
Those who prefer being a part of the action over the spectator's seat can compete in the festival's Snow Warrior Dash – a 5k race through mud, snow and ice obstacles and terrain. And for the ultimate adrenaline rush, participants can take the Polar Plunge into the Deschutes River as part of Special Olympics Oregon's zany fundraising event.
Visitors can find out all that WinterFest has to offer at www.bendwinterfest.com.
Bend travelers often top their day off with dinner at The Blacksmith Steakhouse Bar Lounge – selected as one of the top 66 new restaurants in the world by Condé Nast Traveller, and book a day of dog-sledding excursions to round out the perfect winter adventure.
Note: SkyWest offers daily flights to Bend, Ore. (RDM) from Denver (DEN), Portland (PDX), and San Francisco (SFO) onboard United Express operated by SkyWest Airlines. Visit www.United.com to book your flight from one of these locations. SkyWest also flies daily from Salt Lake City (SLC) to Bend (RDM) aboard Delta Connection operated by SkyWest Airlines. Visit www.delta.com to book your SLC-RDM flight.