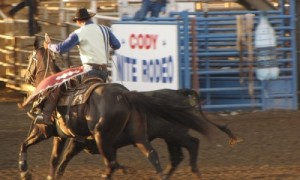 Headed to Yellowstone National Park this summer? Kick off your trip with a visit to the famed park's  Eastern gateway in the small Western town of Cody, Wyoming! Named after William Frederick Cody, better known as Buffalo Bill, Cody is the perfect way to begin your trip to the largest National Park in the U.S.
Cody is rich in pioneer, cowboy and Western history and there is no shortage of activities to help bring that history alive. Start your stay with visit to the Buffalo Bill Historical Center. With five museums contained within the museum complex, including the Buffalo Bill Museum, Plains Indians Museum, Whitney Gallery of Art, Cody Firearms Museum, and Draper Museum of Natural Art, you and your family are sure to love one of the nation's most remarkable museums steeped in the history of the frontier West.
If history is definitely your strong interest stay at the Irma Hotel (www.irmahotel.com), another historical site built by Buffalo Bill and opened in 1902. With modern updates it's a place fancy enough for royalty and plain enough for cowboys and cowgirls. Stay in rooms frequented by personalities such as Buffalo Bill, Annie Oakley and Calamity Jane while enjoying gunfighter re-enactments six nights a week from June through September (www.codygunfighters.com).
All of the excitement from the Wild West is sure to leave you hungry. Enjoy the sensational prime rib at Irma's Hotel or make your way over to Bubba's Bar-B-Que for some good old fashioned western BBQ. In the heart of beef country, you won't find a better steak or burger! Looking for healthier options, Bubba's also has an awesome all you can eat salad bar.
Make your frontier adventure complete by taking in a good old fashioned rodeo! Nicknamed the "Rodeo Capital of the World", the city hosts Cody Nite Rodeo every night from June 1 through August 31. The pinnacle of the rodeos occurs July 1-4, as one of the largest rodeo events in the nation descends on Cody. Held every year since 1919, the Cody Stampede Rodeo is a local tradition that brings alive the spirit of the Independence Day holiday.
Whether on your way to Yellowstone National Park or just looking for a getaway from the hustle and bustle of the big city, Cody is the perfect place for your summer vacation. SkyWest Airlines offers full passenger service to Yellowstone Regional Airport in Cody from Salt Lake City via Delta Connection operated by SkyWest, and Denver via United Express operated by SkyWest. Visit www.delta.com or www.united.com to book your flight and get your Western adventure planned today!