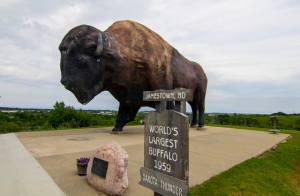 Known as the "Pride of the Prairie," charming Jamestown, North Dakota is located midway between the state capital of Bismarck and Fargo, the state's largest city. Jamestown prides itself on its warm and welcoming hospitality, and as a year-round vacation destination offering exciting entertainment, comfortable accommodations and fine dining that are sure to provide an exceptional experience.
Outdoor adventurers can choose from more than 35 miles of trails, including short, paved and scenic routes; along with long, natural, challenging hikes – perfect for every fitness level! One favorite is the Jamestown Reservoir Trail, which also brings visitors to one of Jamestown's premium recreational areas. With more than 45 miles of shoreline and 2,000 acres of surface area, visitors can enjoy boating and fishing from seven different launch areas, camping, beaches and even 24-hole disc golf along the reservoir!
No trip to Jamestown is completely without a visit to Frontier Village where original buildings from the North Dakota frontier have been relocated and filled with historic artifacts. Guests will have a chance to learn about Western frontier history, view exciting Wild West shoot-outs, experience stagecoach and pony rides, and view local art in the Kirkpatrick Art Gallery.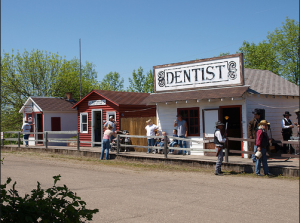 One of Jamestown's most popular roadside attractions has been standing watch over the city since 1959. The 26-foot-tall, 60-ton buffalo, named Dakota Thunder, will delight kids of all ages. Rare, white buffalo, considered sacred in some Native American traditions, also roam in pastures near the National Buffalo Museum as visitors learn about the history and significance of these incredible creatures.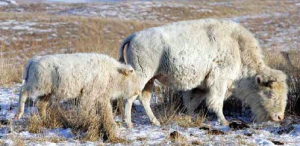 Fans of the famed Western author, Louis L'Amour, will enjoy their time in Jamestown seeing the Historic Franklin School where he received most of his formal education. Afterward, take a trip the Alfred Dickey Public Library, one of the places that helped to stimulate Louis' love for the written word.
Whether seeking a historical frontier experience or just the chance to indulge in the great outdoors of North Dakota, Jamestown in a perfect fit! Visit today by booking a convenient United Express flight, operated by SkyWest Airlines, at united.com.