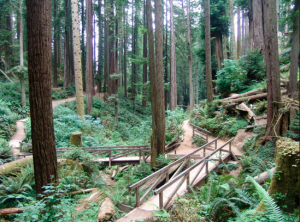 Just steps from downtown Arcata an emerald hush falls over the nature trails through 2,350 acres of woodland recreation that is the Arcata Community Forest, the first municipal forest in California. While the forest and its striking redwoods forms a visual backdrop of the town and provides extensive passive recreation like hiking, nature walks, horseback riding, and mountain biking, the city also benefits from the ability to manage its natural resources responsibly. It is this participatory approach to forest management that strengthens this eco conscious city to build a vibrant community by protecting and enhancing the ecosystem. This natural way of thinking permeates the community and its local noteworthy businesses.
Before striking out on one of the myriad trails available in the redwood forest try stopping in to the Humbolt State University Natural History Museum (www.humbolt.edu/natmus). This stop provides a comprehensive orientation on the community forest from exhibits like Birds of the Redwoods, Native Bees, Plant Evolution and the Redwood Forest to enrich a visit to the forest whether on horse or by foot.
The perfect end to a vigorous hike is to stop in to Siana Natural Spa for their eco-chic alternative treatments for the whole body. Like the city itself, Siana is dedicated to its all natural products and treatments that are luxurious while also environmentally responsible. When stopping in try their famed Natural Rosemary Facial Cleanse or a Chinese Qigong massage treatment.
Arcata's passion for nature and sustainability are keystones of renowned Foulie Douce's philosophy where their passion for sustainability is matched by their fervor for exceptional food. The farm to table concept is evident in daily menu changes based upon the 100% organic and mostly locally obtained produce and ingredients delivered that day. All proteins are naturally raised free-range animals with no hormones or antibiotics. The passion and creativity is spectacularly presented in menu items like the wood fired pizza featuring salami and brie with mozzarella and apricot jam or the seared duck breast with a spring local wild onion sauce. Discover more at www.foliedoucearcata.com.
For your next weekend getaway consider the natural paradise that is Arcata. SkyWest Airlines offers convenient United Express service from San Francisco International Airport to Arcata-Eureka airport. Visit wwww.United.com and plan your adventure today!