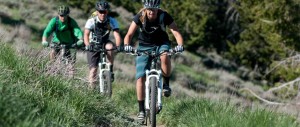 In the 1930s, an Austrian Count named Felix Schaffgotsch stumbled upon Sun Valley's Rocky Mountain gem and proclaimed, "It contains more delightful features for a winter sports center than any other place I have seen in the United States, Switzerland or Austria." It didn't take long for the word to spread and soon a luxury lodge was built to accommodate the flocking general public and celebrities alike. Up until the rise in popularity of alpine skiing as a recreational sport, Sun Valley consisted of a sleepy village of ranchers and miners, and the valley's rich history as a mining-ranching-town-turned-upscale-resort still permeates the culture that flourishes today. It is this culture that brings people from all corners of the globe year round.
Sun Valley's 13 ski lifts keep visitors busy year round whether one is enjoying spring break skiing or hiking and biking down from the peak of Bald Mountain in the summer. Olympians and world-class skaters alike can be found in the outdoor ice rink, Sun Valley's Ice, signing autographs and rubbing elbows with the locals; while warm weather draws celebrity athletes to one of the many golf options in the valley.
Apres-ski may have been a term coined during the winter months, but with the all-seasons allure of this upscale resort area, après-ski is taken seriously year round. Grumpy's (grumpyssunvalley.com) on Warm Springs Road greets patrons with a "Sorry, We're Open" sign but there is nothing to worry about here! This wildly popular local favorite is patronized by visiting anglers and local skiers alike. The burgers and monstrous 32-ounce beer schooners are unbeatable; but be prepared, because the only payment smiled upon here is cash. If celebrity history is an interest then no après-ski visit is complete without wandering into Michael's Christiania (Christianiarestaurant.com) for dinner. Make sure the staff points out Earnest Hemingway's regular table in the Olympic Bar before settling into a cozy spot for great drinks and possible celebrity sightings.
It's hard to imagine that a destination known among the rich and famous can maintain a home town, simple life feel, but Sun Valley has managed to do just that, and establishments like Grumpy's and the laid back local attitude are part of what make Sun Valley so unique. Through decades of increasing popularity, this Mountain town has successfully carried their grass-roots heritage and woven it into the modern conveniences of today – making it an escape for everyone. Visit www.Delta.com to book your flight today and begin your Sun Valley adventure!