SkyWest is proud to have a global team with many cultures represented throughout our workforce. This month we celebrated Asian American and Pacific Islander Month by catching up with SkyWest team members across the system to share what their heritage means to them and how it plays a role at SkyWest and in their local communities. Here's what they had to say:
April Keil – Crew Scheduler, HDQ
Since joining SkyWest nearly 20 years ago, April Keil has spent her aviation career working in Crew Support. She has been a vital part of the operation and despite working nearly two decades in her role, she has no plans of slowing down.
"I love it here. SkyWest is my home-away-from home and while 20 years sounds like a lot, it's gone by fast," she said. "There's nowhere else I'd rather be."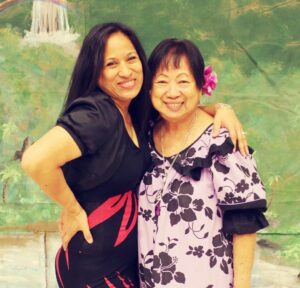 For April, who is both Samoan and Chinese, celebrating Asian American and Pacific Islander Month is important to her because it's an opportunity to recognize the contributions of those – both past and present – who have made a difference, and to share her heritage with her kids and all those around her.
"Family is everything in the Samoan culture and family is everyone. We believe it takes a village to raise a child and everyone helps out. During a trip back to Somoa, I had kids run up to me shouting 'Auntie, Auntie, look what we found.' They grew up with that mentality that anyone who is your elder is your aunt or uncle. A lot of the Polynesians who are younger than me in Crew Support also call me 'Auntie.' I got some strange looks from my boss before I explained everything," April said laughing.
After moving from Samoa to the United States in 1996, April wanted to make sure her kids didn't forget where they came from. After working at SkyWest, April made the most of her travel privileges by taking her family often to visit Samoa.
"We still have a bunch of extended family over in Samoa and it's been wonderful and such a blessing to be able to visit them," said April. "I love showing my kids around, getting them in touch with their roots and teaching them more about their heritage, culture and traditions."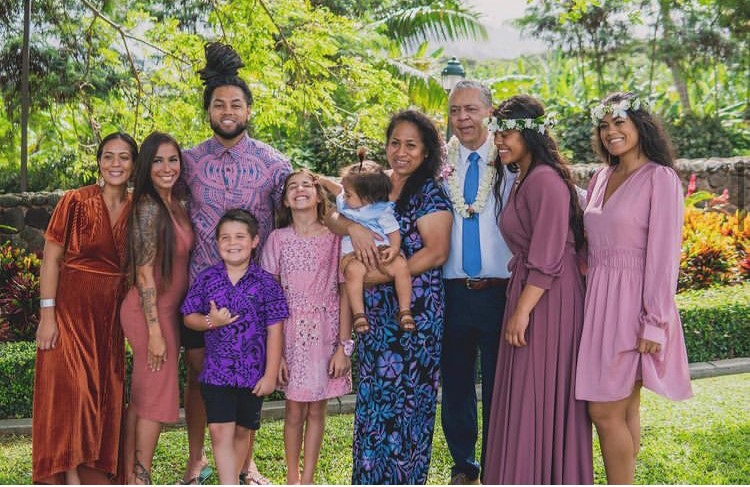 Wanting to share that with others back home, April and her family opened up a dance studio – Siva Pasefika or "Dance Pacific" – to share the Polynesian culture with the community.
"We started Siva Pasefika in 2006 and it's been fun sharing and teaching the Polynesian ways," said April. "My kids are a lot older now and they have taken the lead and it's been a lot of fun to watch and to see the culture being carried on."  
In addition to the ability to travel and see family, April says the work/life balance, the comradery and friendships she's made at SkyWest is what keeps her happily coming to work each day.
"SkyWest has been so good to me. It really is my second home," she said. "I always look forward to coming in every day, even when some of my shifts start so early in the morning. I enjoy what I do and I have great coworkers who have become my lifelong friends."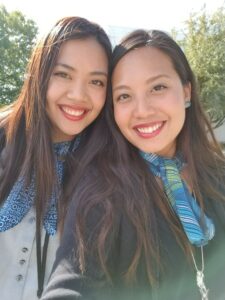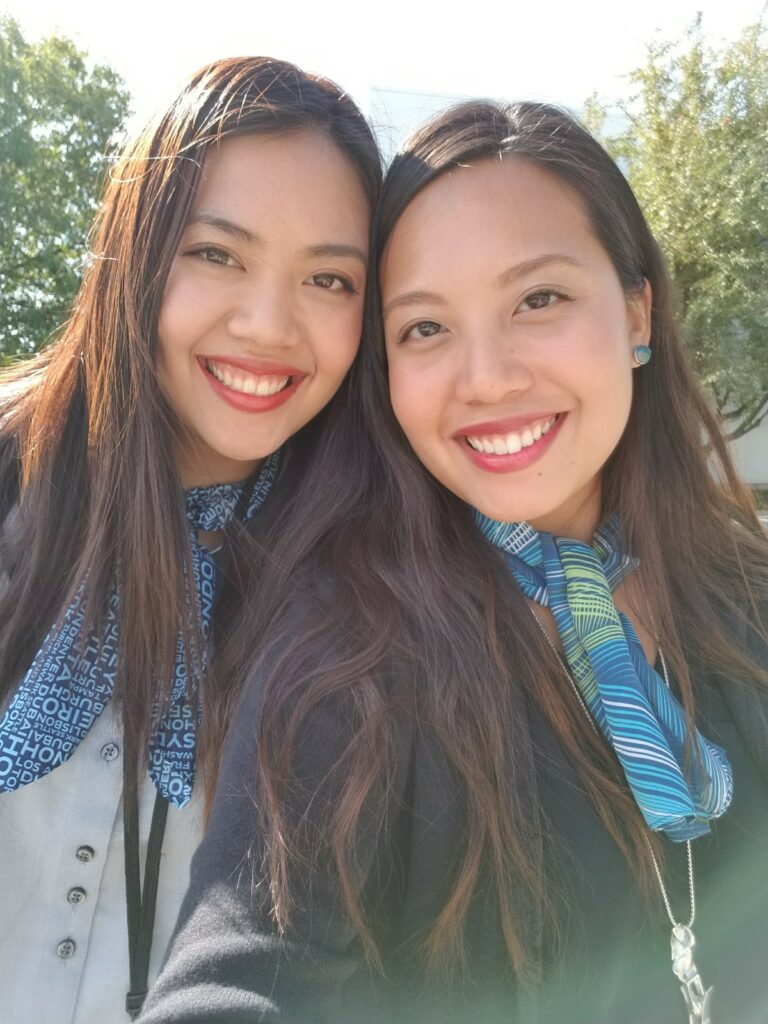 Anna and Piraya Supa – Flight Attendants, (PDX and BOI)
Traveling between the United States and Thailand each year to visit their extended family, Anna and Piraya Supa – both sisters and now SkyWest Flight Attendants – fell in love with aviation, traveling and experiencing the different customs and cultures throughout the world.
After the Supa family moved from Thailand to the United States, Anna's dream of becoming a flight attendant became a reality. After applying for a position, Anna attended a group interview in Portland, Oregon (PDX) and started her training soon after.
After seeing her sister, Anna, have the time of her life at SkyWest, Piraya couldn't wait to join in on the fun and was hired two years later.
Over the years, both Anna and Piraya have had the opportunity to work several trips together and enjoy visiting extended family in Thailand.
Click here to read more about Anna and Piraya's experience.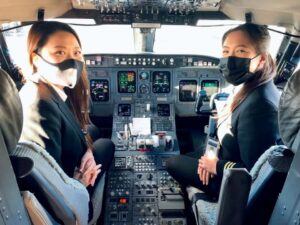 Claudia Liu – CRJ First Officer, LAX
CRJ First Officer Claudia Liu did not follow the "typical" path to becoming a pilot. After working in the fashion industry for three years, she decided it was time for a change. Her mom suggested she apply for a pilot cadet program with Eva Air in Taiwan.
After applying, Claudia quickly realized how much she loved flying. She eventually moved to California to build up her flight hours and earned her CFI. Despite the big change, one thing that helped was the friends and supporters that Claudia met along the way, especially Michelle Lee. The two met in flight school and are both flying at SkyWest. The two flew their first trip together this past December in what was a memorable moment for both women.
Click here to read more about Claudia and her experiences.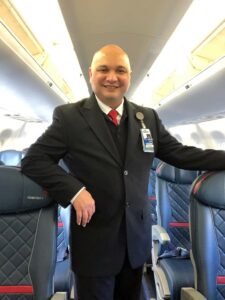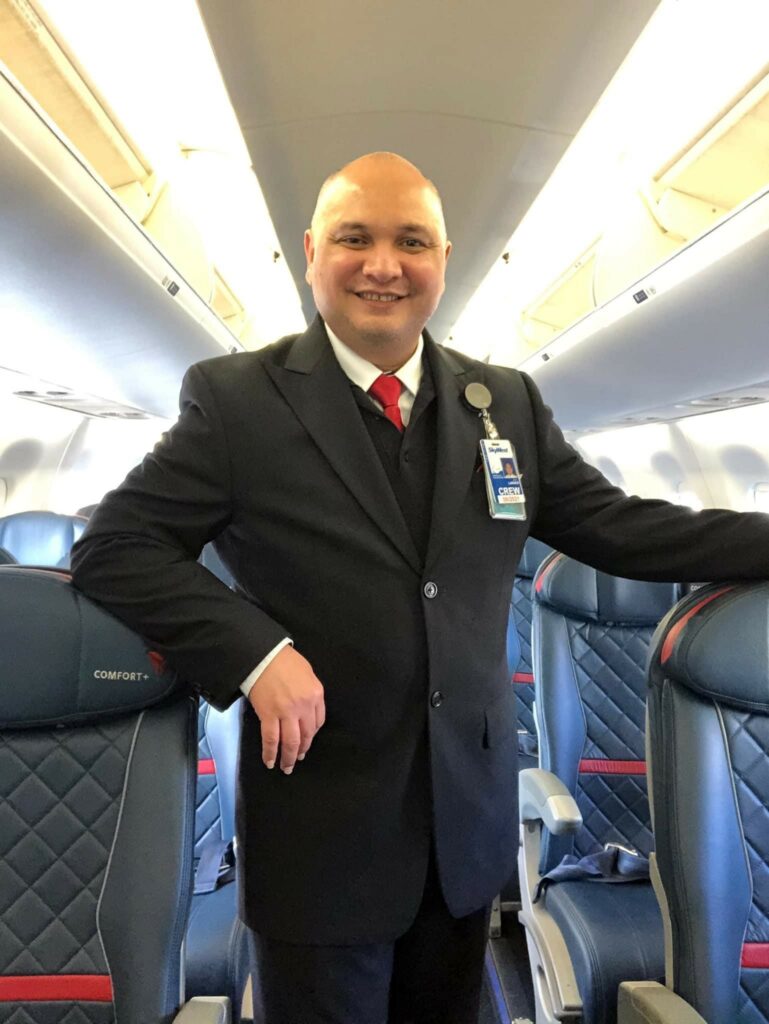 Joel Larimer – Flight Attendant, SEA
After moving from Guam to the United States in 2003, Seattle (SEA) Flight Attendant Joel Larimer fulfilled his dream of becoming a flight attendant.
And for the past 16 years, Joel has been a fan favorite 35,000 feet in the air as he sings, dances and helps provide a great travel experience for passengers. Several frequent fliers have nicknamed him "jukebox" because he's always singing on the plane.
For Joel, sharing his culture goes beyond just talking with passengers or making famous Chamorro food dishes for coworkers, it's about informing, inspiring and helping to connect the world.
Click here to read more.