The saying "it runs in the family" certainly rings true at SkyWest with aviation playing a big part for many of SkyWest's 14,000 employees.
To celebrate Father's Day, and to show our dads and father figures just how much we appreciate them, we asked a few SkyWest employees to share how their dads have inspired and guided them.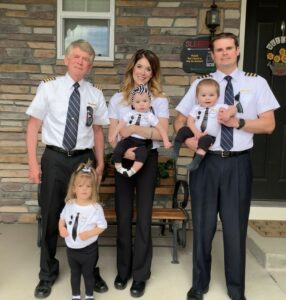 Jenny Elmer – CRJ First Officer, DEN
My dad has always been my hero since I was a little girl! He was a United Airlines pilot and I aspired to be an airline pilot just like him.
My dad constantly supported me and helped me get through my flight training. He even reinstated his CFI to fly with me while I built my flight time. He instilled the hard work ethic I have and reminded me to always find the fun in flying. Dad found humor in everything! We had a lot of laughs.
In 2005, I became an intern for United and was able to ride on Dad's jumpseat for a handful of flights. Then in 2006, I was hired as a first officer at SkyWest Airlines. My dad wins the "most flights on your daughter's jumpseat award"! He was on the jumpseat of one of my Brasilia flights and again several times when I transitioned to the jet! He was so proud of me and I was over the moon to have him on my flights!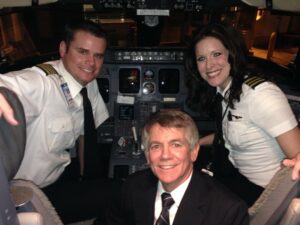 I married a SkyWest pilot and my dad came along when my husband picked up one of my trips as captain. After starting my career at SkyWest, I continued flying trips on Dad's jumpseat and made sure to join him and my husband (who is also at United now) on their jumpseat to Hawaii! I even rode on the jumpseat of Dad's retirement flight!
I'm so proud of my dad and I will forever cherish the moments we had together flying. He shared all his knowledge of flying and encouraged me to always be the best that I could be. His great attitude led him through an amazing career and I aspire to work hard and to find the fun in every flight!
Thank you, Dad, for helping me become the pilot I am today! I want to make you proud!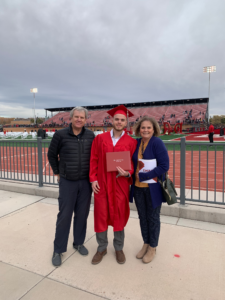 Garrett Hintze – Maintenance Control Support, HDQ
Thinking back to when I was first hired at SkyWest, I remember thinking how incredibly lucky I was to have the opportunity to work alongside my father, my life's biggest role model. Throughout my time here, my admiration for him, as well as our bond, has continually grown. He has always been an inspiration in my life and continues to set a high standard.
Even when it comes to activities outside of the workplace, such as biking, I find myself eating his dust. His sharp wits and high skill set have always been a source of reliance; hence it is no surprise that I find myself working in the same industry. His consistent support, and faith in my capacities, have played a major part in my success throughout life. He is genuinely great at what he does at SkyWest and far exceeds that in his role as a father.
Dad, you have given me the best things in life: your time, care, and love. I am so grateful to have you as my father. Happy Father's Day!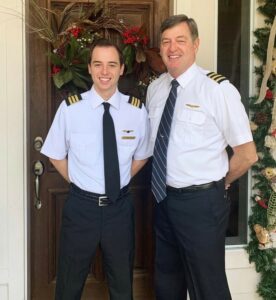 Ethan Gray – CRJ First Officer, IAH
My dad has always been my primary inspiration for aviation. A decorated fighter pilot now with United, he has supported me throughout the long journey of becoming an airline pilot myself. I have fond memories of him flying over our house in F16s, or going to the airport to watch him land 737s. Flying runs deeply in my family, as my late grandfather was also a lifelong Air Force aviator.
Both my grandfather and dad were instrumental in my success as a pilot. The countless and riveting stories my grandfather shared kept me motivated when training got tough. My dad always had the right advice when I had a poor lesson or felt overwhelmed. If I ever needed some guidance or just a solid flying story, I always knew I could call either of them. Even though their tales consisted of action-packed heroics over enemy skies, it always came back to the fundamentals:
– Use all of your resources
– Never give up
– Never stop learning
– And of course, don't forget to have fun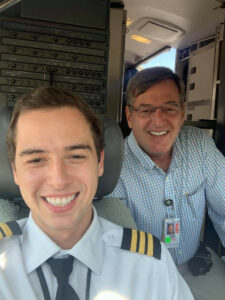 When I got the call from SkyWest, my family was ecstatic. In classic dad fashion, my father said "I'm not surprised!" Similar words to what he would tell me after every checkride pass or major milestone I completed. "You studied, you prepared, and now you've succeeded!" He, nor my mother, have ever expressed any doubts in my progression. They've been nothing but supportive. I am extremely thankful and blessed for this.
Last fall, my dad joined me on a short turn to Lake Charles. He rode in the flight deck jumpseat as Captain Sonny let me fly both legs. Our schedules so rarely line up, it made this experience very special. This was the first time a family member has ever flown with me as a professional pilot. I was so excited to have my dad and hero watching me work in the flight deck. With such experience observing me, I made sure I was on my absolute A-game. Not to brag, but I totally greased the landings for him.
Now with loads filling up, and both of our schedules becoming busier, it will probably be quite a while before we get to fly together again. That makes this experience all the more fun and special to me.
Kevin Law – System Controller, HDQ
I have always been inspired by my Dad to find a career in Aviation. Growing up, my dad served in the United States Air Force flying the EC-121 the F-102 and A-7D, before ending his military career after 30 years.
With a love for flying, my dad began looking into commercial aviation. Turns out we were both fortunate that SkyWest offered him the job. My dad was hired in 1984, and I followed in 1985.
I started as a ramp agent, and a year later, was hired as a Dispatcher/System Controller where I've spent the last 35 years. During this time I was fortunate to pre-plan flights and send releases as my dad's dispatcher. Another fun memory working together is when he was flying into St. George (SGU) and I let him know over the radio that my first daughter was born. I also had great rides in the Brasilia riding in the jumpseat with him. Dispatchers are required to have jumpseat time and it was fun listening to him talk to air traffic control. I could tell they had talked many times before and had a good time ribbing each other. It was great to be able to ride along with my dad and see him do what he enjoys.
I have many happy memories and have enjoyed the many friendships that I have made at SkyWest. Thanks, Dad, and Happy Father's Day!