So, you've caught the aviation bug! We don't blame you. We love airplanes too. So we invited Tom Himka, Colorado Springs Maintenance Manager to give us an overview of what it's like to be a SkyWest Mechanic.
---
Starting a new career can be a bit overwhelming, and you probably have plenty of questions. For instance, what is it like being a SkyWest mechanic? We can tell you, there isn't anything more exciting than working nose to tail on state-of-the-art aircraft. And that's exactly what every A&P mechanic at SkyWest does. With safety at the forefront of every task, each mechanic is responsible for the miracle of flight. Our team of maintenance technicians uses the best technology to keep a fleet of nearly 500 aircraft safe in the skies.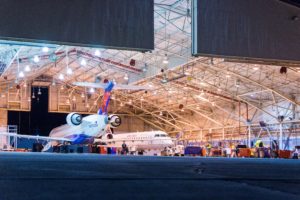 I'll share an overview your first night, week and year as a SkyWest mechanic. We look forward to seeing you at work on the hangar floor.
Your first night at the maintenance hangar starts by attending a pre-shift meeting with all mechanics. Here, you're assigned a Crew Lead, team and the aircraft you will be working on. Maintenance Crew Leads oversee 3-4 aircraft, plus one heavier inspection aircraft. All work must be wrapped up and the aircraft positioned to head back to the gates by 4:30 a.m.
SkyWest's approach to teaching about the different aircraft is a mixture of hands-on and classroom experience. You can expect to spend 3-4 weeks on the hangar floor with the aircraft and an on-the-job trainer. You will also attend familiarization classes for each fleet type.
To help with the steep learning curve of your first week, you will meet with a Designated Trainer. A Designated Trainer is a top-level mechanic who works with Inspection and Production, and will specifically train you on SkyWest's policies, procedures and SkyTrack computer maintenance documentation. The Designated Trainer acts as your mentor and coach as you work through assignments and sign-off tasks.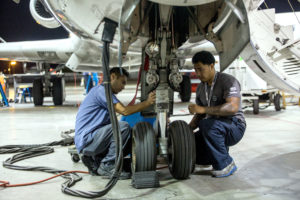 Your first month, you'll be hands on the aircraft with walk arounds, learning component locations, and inspection trainings.  For the first 30 days, FAA regulations require all work to be signed off by a trainer.
During your first year, you'll continue class training for each aircraft type and module classes for specific systems like hydraulics, fuel or air conditioning.
Our Accelerated Training Program is designed to ensure top proficiency within 18 months, allowing the flexibility to work independently as well as lead or assist new mechanics.
Already have your A&P? Apply here!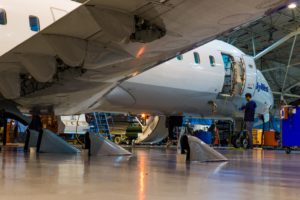 SkyWest Maintenance Technicians Enjoy
Top-Tier Pay
Experience Pay Match
Up to 10% 401(k) Match
Unmatched training & advancement
Operational and Financial Bonuses
23 Maintenance Bases and Line Stations
Advanced Technology and Procedures (SkyWest is the first airline maintenance group in the world to go completely paperless)
Nose-to-tail experience on the industry's newest fleet
SkyWest Flying
Nearly 500 Regional jets, including the E175 and the CRJ200, CRJ700 & CRJ900
33% of all aircraft overnight at a maintenance base or line location
Partnerships with Delta, American, United and Alaska Airlines