SkyWest's more than 4,000 flight attendants provide exceptional service and help to tens of thousands of passengers every day. They're also well trained to respond to a variety of emergency situations, including unexpected medical problems.
On Oct. 18, SkyWest flight 5596, operating as United Express, was flying from Chicago to Halifax, Nova Scotia when a passenger notified Rachel Bessey and Sandy Yeary that her child was acting strangely. She said the girl was having a hard time breathing and was lethargic. Rachel and Sandy sprang into action, requesting assistance from medical professionals onboard and providing support as the young passenger was attended to.
"I went straight into what we needed to do, we ended up using quite a bit of [medical] equipment on the plane," recalled Rachel.
Both Rachel and Sandy said this was the worst medical issue they have ever had on board, but trusting the training and the medical staff, made the difference.
"By re-iterating the policies and procedures in your mind, when an emergency occurs (as the one we experienced), our actions were calm and second nature," said Sandy.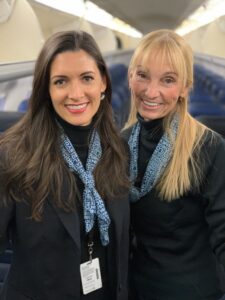 Prior to landing, the crew requested medical personnel meet the aircraft in Halifax and the passenger was transported immediately to the hospital. Doctors at the hospital identified that the passenger was suffering from diabetic ketoacidosis (DKA). Her mother disclosed that they were shocked to learn their 13-year-old daughter has Type 1 diabetes. We are grateful to learn that she has since improved and been released from the hospital.
"The medical professionals on the aircraft were just incredible. They saved the young girl's life. It was quite an experience to witness," Said Sandy.
"Everyone was great, all the passengers on the plane were so understandable," said Rachel. "They all could tell we had it under control and coordinated."
We applaud our crewmembers service, compassion and professionalism in responding to this medical emergency and continuing to take care of all the other passengers on the flight. It's a great example of the great work that SkyWest teams are doing across North America every day.
To learn more about becoming a part of SkyWest's flight attendant team, click here.