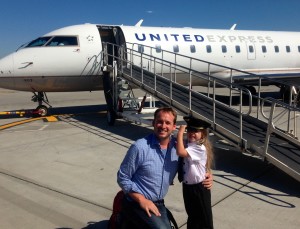 For a child enamored with planes, simply boarding a flight and taking a seat with their face pressed eagerly against the window is an experience to remember. However, thanks to a special request, some amazing crewmembers and a carefully coordinated effort by SkyWest Airlines employees, five-year-old Calibrooke Myers recently had a flight experience that is sure to be cherished for a lifetime. Kelsey Myers, Calibrooke's father, reached out to SkyWest representatives before his recent flights asking if he could get some type of special memorabilia for his aviation-loving daughter.
"I was just hoping she would get a sticker or something," said Kelsey. He never expected the royal treatment bestowed upon Calibrooke. Kelsey said, "The crews really went above and beyond anything I imagined. They were truly amazing!"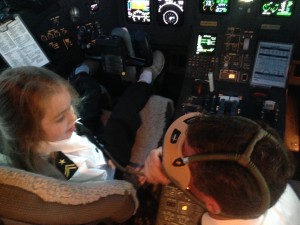 As Calibrooke boarded each of her flights, dressed in her captain's uniform, she got a VIP tour of the flight deck and even had a chance to sit in the captain's seat. Wise and attentive beyond her years, she listened as the pilots explained what various instruments do. And it wasn't long after takeoff that Calibrooke was busy explaining to other passengers everything she had learned about the instruments the pilots were using to navigate the plane as they ascended through the clouds.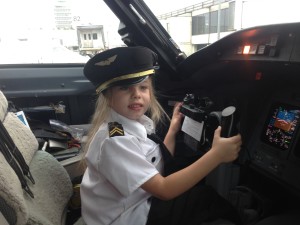 Calibrooke also received plenty of mementos as part of her journey, including wings, posters, cards signed by crewmembers and a sign with Calibrooke's name waiting for her as she took her seat. The packages from the flight attendants also included the stickers Calibrooke's dad was hoping for when he originally contacted SkyWest.
All of the attention added up to an unforgettable experience, both for Calibrooke and the crewmembers who witnessed the sincere joy this young passenger finds in flying. With her love for flight and natural ability to understand aviation, there's a good bet Calibrooke could be back in the flight deck piloting her own SkyWest flight in the future!