Moving halfway around the world to start their careers as airline pilots, SkyWest Captains Daniel Suber and Kylie Dewar — who didn't know each other until they met at SkyWest — admitted they got more than they bargained for when they joined the world's largest regional airline.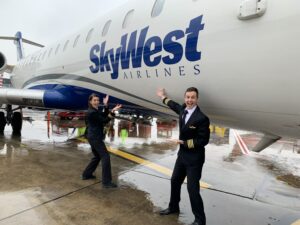 "We went from seatmates to soulmates pretty fast," Daniel said with a smile.
"To this day, our family still laughs and reminds us, "We can't believe you went all the way to America just to bring home an Australian," added Kylie. "I knew SkyWest was a great company — and it's certainly surpassed all my expectations — but I just didn't realize they would also help me find my true love too."
Before coming to SkyWest, Daniel worked as a flight instructor and also helped fight wildfires during the fire season. Wanting something more, Daniel applied with Qantas and got accepted.
"Everything seemed great at first, but because positions were full, I had to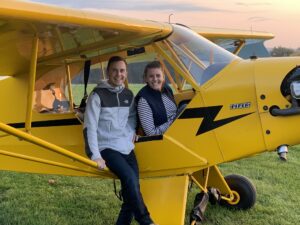 wait until a position opened up," said Daniel. "After about a year I was getting tired of waiting. Then I heard about SkyWest and after doing some research, it seemed like the perfect fit for me. What jumped out to me was its departures and massive fleet. SkyWest has more airplanes in its fleet than all the airlines in Australia combined."
For Kylie, becoming a pilot was something that she had never planned on doing. Before coming to SkyWest, she started out as a flight attendant at SkyWest Australia, which later became Virgin Australia.
During her time as a flight attendant, Kylie remembers going into the flight deck during trips and just being in awe of the views. And although she enjoyed being a flight attendant, she knew something was missing. After talking with some of the pilots, they told her to take a flying lesson and to try it out.
"I thought they were crazy. I kept thinking, 'there's no way I could afford to be a pilot, let alone learn how to fly.' But I ended up taking a lesson, loved it, and the rest is history."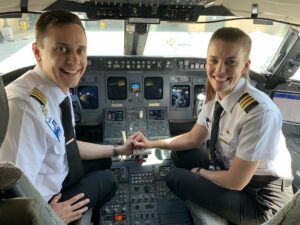 After completing her flight training and being hired at SkyWest, a friend put her in touch with Daniel so she could get some advice about the airline and to help answer questions about life in the states.
"I didn't waste any time, Kylie said laughing. "Daniel was super helpful with everything. Coming from Australia, I didn't know where to send my mail and everything. He told me that I could send it to his place and that he would hold everything for me. He could have gone through all my mail and took everything, but he didn't, and that trust only deepened between the two of us."
Before Kylie upgraded to captain, the duo was able to schedule several trips together. In fact, they flew for a month with one another in what Kylie describes as the ultimate test for Daniel.
"That was the final test and he passed," Kylie laughed. "But honestly, it was a big blessing for me as he was a great mentor and really prepared me so that I went into my upgrade with a lot of confidence."
To top it off, the couple got engaged on Christmas Eve at a place where it all started: Chicago O'Hare.
"You could say it was a match made in an airport," Daniel said with a smile. "I had been thinking of proposing for quite some time, but things kept changing, especially with the pandemic and everything. We are both based here and the airport has been a big part of our lives. It has a lot of significance for us and with all the decorations and lights, I jumped at the chance."
To set up his plan, Daniel convinced Kylie that there was a crew Christmas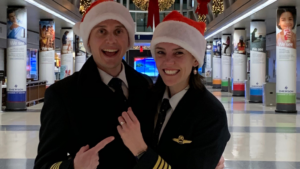 party at the airport. Daniel recruited a friend to take Kylie's picture in the decorated hall on their way to the party. The friend was recording the event and captured the moment when jumped out and got down on one knee.
"It worked perfectly," said Daniel. "She fell right into it."
"I had an idea it was coming, I just didn't know when," added Kylie. "Daniel isn't the best at keeping secrets, but I have to admit that he got me good."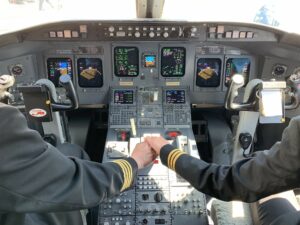 After a wild year with the ongoing pandemic, 2020 ended in the best way possible for Daniel and Kylie.
"We are both grateful for SkyWest and the opportunities it has given us," said Daniel. "The company gives you the resources you need to succeed and it's been a blast. I'm not sure why anyone would want to leave."
"We can't see ourselves ever leaving," added Kylie. "The flying is awesome, the crews are amazing and we have such a great team throughout the system. We love our jobs and love being at SkyWest."
To the more than 13,000 SkyWest employees and many more who share a love for all things aviation: Happy Valentine's Day!