Doug and Alec Wheeler's shared love of flight led them to follow their dreams to become pilots. Their SkyWest journeys were each different, but this father and son duo pushed their way to become CRJ first officers for SkyWest Airlines and fulfill their goal to become pilots.
When the market crashed in 2008, Doug Wheeler's RV repair business in Salem, Oregon took a devastating hit.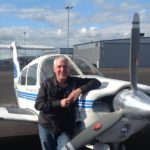 He had a decision to make; and after seeing his eldest son, Alec Wheeler, enroll in flight school, he decided to continue what he started 30 years prior and pursue his pilot's license.
"I was first introduced to flight by a family friend at age 13 in his C172," said Doug. "When we first took off, I was amazed by all of the trees and buildings…I was hooked on flight. Three years later, at age 16 I started flight lessons."
Doug accrued a total of 23 flight hours before ultimately ending his pursuit of becoming a pilot. He opened his RV repair business in 1994 but flying still remained on his mind.
"Flying was always in the back of my mind. I couldn't shake it," explained Doug. "When I had time, I would take the family to air shows in the local area. Alec was my only kid that seemed to be as interested in them as me."
Doug arranged for Alec to take a flight in a C172, just as he did as a young boy, and Alec too was hooked.
It was this shared love of flight that ultimately led to the pair enrolling in flight school together many years later.
Doug and Alec completed their flight training and together were hired by SkyWest Airlines.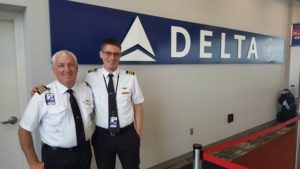 "We chose SkyWest because it's the best regional airline," said Alec.
Today, Doug is a CRJ first officer based out of Seattle and Alec is a CRJ first officer based out of Minneapolis. Their hope is to one day fly a trip together.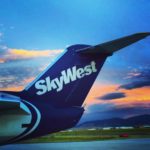 "Flying side-by-side with my dad would be the culmination of more than a decade of hard work between the two of us and it would be a very cool way to commemorate how well we work together," added Alec.
"I'm not sure our paths are going to cross, but if they do, it would be so awesome," said Doug. "We started this adventure together in 2010, and it would be quite the exclamation point to that adventure. We would be sharing our passion flying high and fast."
Find out what makes SkyWest Airlines the "best regional airline"! Visit www.skywest.com/careers.