Whether it's taking care of our fleet, our operation, our passengers or our employees, SkyWest people provide great acts of service every day of the year. With the New Year upon us, take a look at just a few of the top service stories shared with us in 2016.
---
Captain Praised for Act of Kindness
In April, a mother and her young children were on a late-night flight. As the mom struggled to carry her sleeping children and the family's luggage off the aircraft, Captain Tracy Woodbury came to assist, offering to carry the sleeping toddler to help the family get home. The mother was so touched she shared the story in a Facebook post. Read the full story here.

Flight Attendant Helps Passenger Make Crucial Connection
Passenger Joe Stevens reached out to us to pass along his thanks to Flight Attendant Manuel Parra. If it wasn't for Manuel's service, Joe told us he likely would have missed his international flight connection to travel to his ill wife.
"I fly frequently and have never received such helpful, friendly service from any flight attendant comparable to the service I received from Manuel," Joe said. "I told Manuel that I had a very short layover before I had to board a connecting flight to Asia to meet with my wife, who was ill. Our flight was close to an hour late leaving, and I was concerned I wouldn't have time to make my connection."
As promised to Joe, Manuel helped him through the immigration desk, the customs desk, the kiosk to get his boarding pass, and then through the security gate – just in time for Joe to board as the last passenger.
"For a flight attendant to offer such help is rare, and I want to let you know how much I appreciated him," Joe continued. "I would definitely have missed my flight otherwise. Not only was his level of service far beyond what I have experienced on my many flights over the years, it was also beyond any level of customer service I have received in any industry. Manuel is much more than just an excellent flight attendant; he is an excellent person."
CS Supervisor Flies with Unaccompanied Minor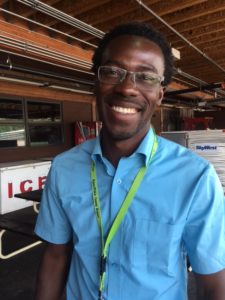 An Aspen deaf camp counselor arrived at the local airport with a 12 year-old boy whose parents purchased a last-minute ticket home to Austin, Texas due to a family emergency. There was one problem; the flight had a connection in Denver. United Airlines does not allow unaccompanied minors under the age of 15 to travel alone during a connecting flight. The family was unaware of the policy, and the camp's counselor was unable to accompany the boy home.
That's when Customer Service Supervisor Zak Sidibe took it upon himself to help. On his own time, he flew as a passenger with the boy to Denver to escort him to his connecting flight back home to Austin. Zak communicated with the boy's deaf parents via text message every step of the way. Thanks to his genuine kindness and heartfelt generosity, the family had some peace of mind knowing their son was in good hands to get home safely during a trying situation.
SLC Maintenance Team Donates Time and Talent to Leonardo Museum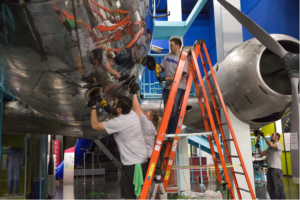 Recently, mechanics at our Salt Lake City maintenance base volunteered their time and expertise to the Leonardo Museum, sharing their love for the miracle of flight with the museum's 180,000 annual visitors. After helping to reconstruct a C-131 aircraft inside the museum for the opening of the FLIGHT exhibit earlier this year, the SkyWest maintenance team volunteered their time to restore the plane's luster and shine. Read the full story here.
Pilot Reaches Out to Young Passenger's Parents During Diversion
Captain Peter Wagstaff recently went the extra mile when he made sure an unaccompanied minor and his anxious parents were informed during a diversion. He sat with the boy and allowed the boy to use his phone to call his parents and let them know what had happened. We received a letter from the child's parents thanking Captain Wagstaff.
"The captain continued to keep us updated via texts on the progress of the plane," mother Beth Shanker said, "As a parent of an unaccompanied minor, it was a relief to know someone was watching out for my son. We really appreciated the captain's updates. He should be commended for the customer service."
"I'm Your Match!" SkyWest Flight Attendant Donates Kidney to Co-worker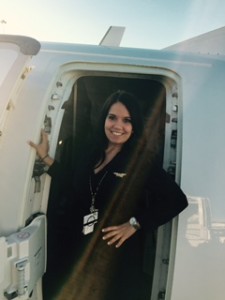 After an ongoing battle against her kidney disorder, Tonuah Trujillo, a Seattle-based SkyWest flight attendant had received the bad news – her kidney function had declined to 12 percent, and she was going to need kidney dialysis or a transplant very soon. As Tonuah was preparing for dialysis due to the lack of donor matches, an incredible thing was taking place behind the scenes. For nearly three months, Chicago-based SkyWest flight attendant Jeanette Perez was taking numerous tests to see if she was a match for Tonuah.
"I became aware of Tonuah's need via Facebook back in the fall. Long story short, I went through test after test to see if I was her match with the mentality of 'if it's meant to be, it will,'" Jeanette said. "I was finally given the go at the end of January and told Tonuah the good news. She did not know I was testing. She didn't even know who I was really – other than our one time meeting on a Christmas deadhead."
---
As illustrated by these stories ­– and even more from the year– SkyWest people deliver extraordinary service each day. With more than 30 million passengers this past year, SkyWest's more than 11,500 aviation professionals have proven what it means to go above and beyond. Looking at joining the SkyWest team? Learn more by visiting www.skywest.com/careers