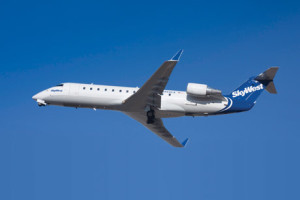 SkyWest's success is a direct result of the incredible employees who help take care of hundreds of customers on a daily basis – despite delays or other challenges. Recently, four crewmembers – Dave Dalton – CRJ captain, Jody Mack – CRJ first officer and flight attendants Peggy Maneotis and Ruby Landreth – were recognized by passengers on two separate flights thanks to their efforts to ensure everyone had a good travel experience. From each of the letters, it's clear that this flight crew truly provided excellent service!
United Express Flight 5201

I wanted to send you a quick note to let you know that I had one of the best experiences flying in almost 40 years, and that's even with a two-hour maintenance delay!

We flew on Flight 5201 from Chicago (ORD) to Aspen, Colorado (ASE) on Saturday, Jan. 24 and everyone from the gate agent in Chicago to the crew – specifically your flight attendants, Peggy and Ruby; captain, Dave; and first officer, Jody – was everything you could ever hope for in terms of representing the best in SkyWest! They couldn't have been any nicer, more pleasant or accommodating. What also added to the experience was that Dave and Jody continued to keep everyone informed on the status of the maintenance –something very rare and very much appreciated!

I fly a lot, and this crew should be the ones teaching everyone on how to make sure customers have a great overall experience! Thanks again!

Julie
United Express Flight 6320 

This afternoon, my wife and I flew on Flight 6320 from Aspen, Colorado (ASE) to Denver (DEN), which was about three hours late due to a mechanical problem.

I would like you to know that the captain, Dave, and cabin staff, Peggy and Ruby, went the extra mile and then some, to make sure the short journey was as hassle-free and pleasant as possible under the circumstances.

Dave, at the request of my worried wife, came to look for me – the United gate staff needed to work on my ticket, resulting in my being last on the plane, and not the usual first. He found me on the apron and escorted me to the aircraft.

Peggy and Ruby involved themselves with the passengers, helping them where they could.

Most of my flying is on European and Far Eastern airlines, which U.S. companies do not often compare to favorably. Today was the exception, and I wanted you to know that.

Tony
These letters are just a few of the many compliments received each week and are great examples of the service SkyWest's 10,000+ aviation professionals provide every day on nearly 1,700 flights! To learn more about the SkyWest team, visit www.skywest.com.