It was a moment that Minneapolis (MSP) Flight Attendant Debby Thompson won't soon forget.
After making her way to the gate to check-in, and then boarding the CRJ900 aircraft to work the last flight of the night, the nine-year veteran got a lovely surprise when she met her crewmembers working the flight from Minneapolis to Cedar Rapids, Iowa last month.
Despite having worked thousands of flights in her career, that Saturday night flight was the first time that she can remember working with an all-female crew.
"It was fun, it was rare, but it was awesome and a proud moment for me," said Debby. "I didn't know beforehand it was going to be an all-female crew. Everyone was excited and it was a very empowering moment for me. I love working with all my coworkers, however, that moment really showed how far women have come in the airline industry."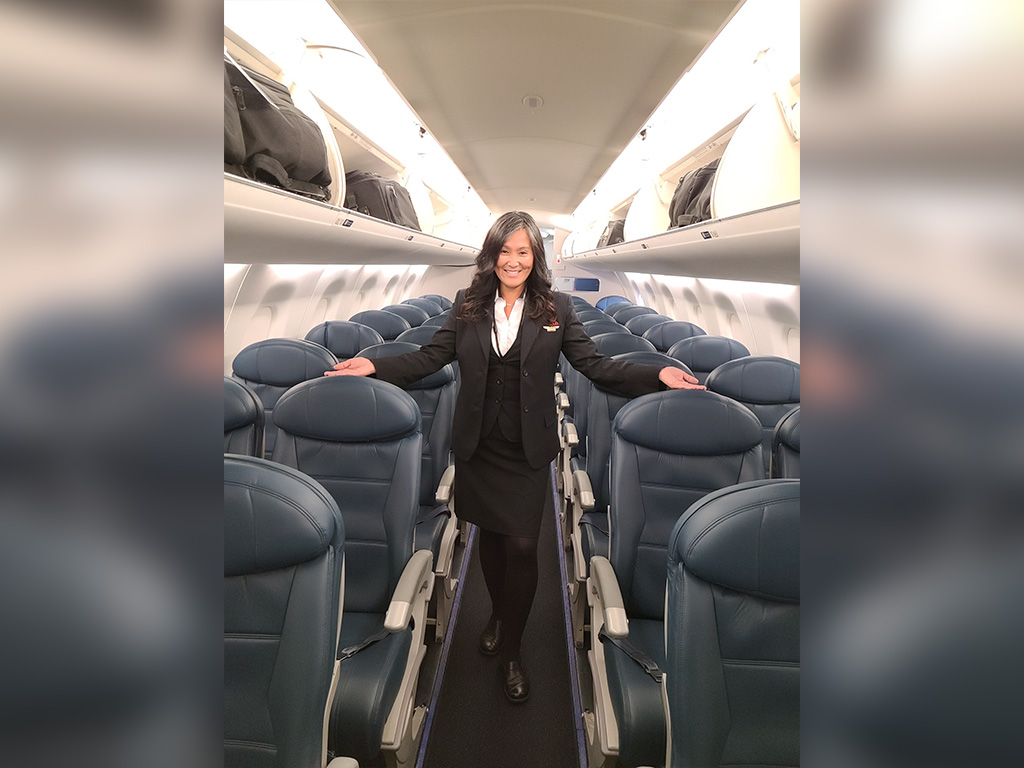 That moment was not only noticed by crewmembers, but passengers as well who commented on the all-female crew.
"It made people pause for a second because many of them haven't seen that before," said Debby. "Everyone was supportive and very complimentary, and it was a reminder that women can do anything they put their mind to. I'm very proud of our SkyWest pilots, especially our female pilots. While it's still a male-dominated industry, I continue to see more females flying at SkyWest and I love it."  
For Debby, working in the aviation industry, specifically as a flight attendant, is something that she has always wanted to do. Since she can remember, Debby has always been fascinated with flying and combined with her love to provide great customer service, working flights 35,000 feet in the air was a natural fit for her.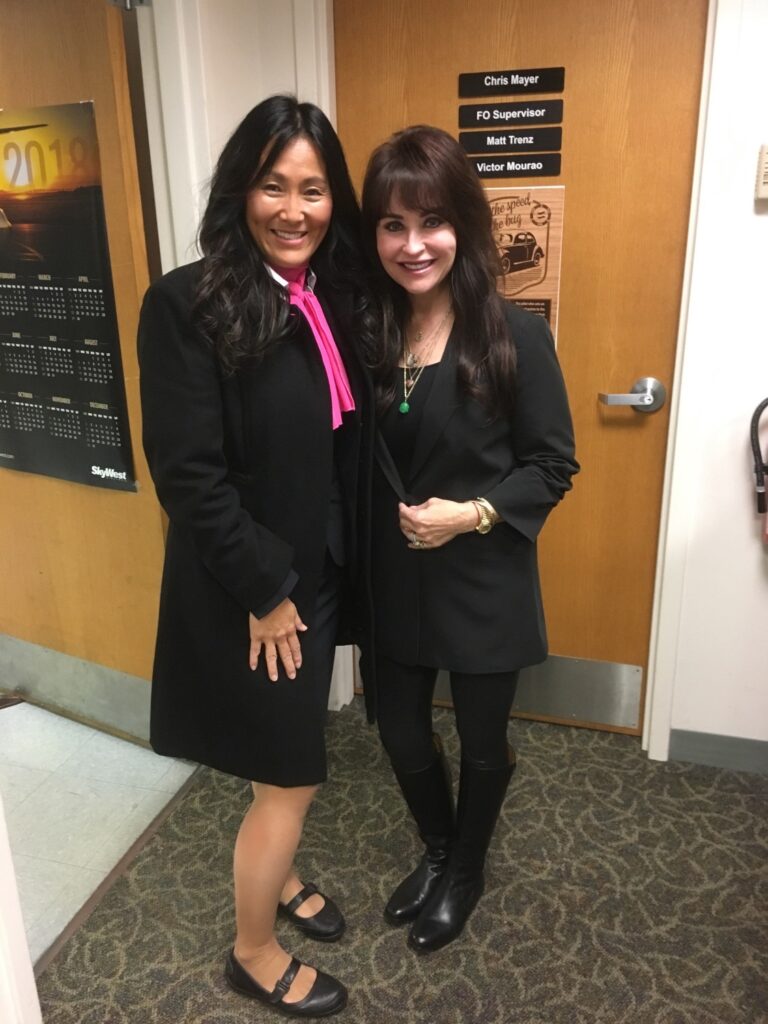 "The saying 'choose a job you love and you'll never work a day in your life' is so true and I really feel that way working at SkyWest," said Debby.
After starting her career in 2004, the nine-year veteran worked for a couple of years before taking a break to help raise her family.
"I came back in 2014 and everything has been great," she said. "It was a good break to help me reset and to focus and take care of my family. I really enjoyed working as a flight attendant and my kids noticed that. When they got older, they were the ones who were encouraging me to come back and mentioned how happy I was working at SkyWest."
After looking online to see where the next recruitment events were going to be, Debby saw that SkyWest was coming to MSP.
"I went to it, and the next thing I know I was in training and was back working as a flight attendant," Debby recalled. "SkyWest is a great company and it was an easy choice for me to come back, especially with the full support from my family." 
One of the highlights for Debby is having the opportunity each day to connect with passengers and crewmembers and making them feel loved and appreciated on each flight.
"People are traveling for a lot of different reasons and you don't know what people are going through," she said. "Each day I choose to wake up happy so that I can be a positive influence and to help assist or turn someone's day around. That's what gets me up every morning."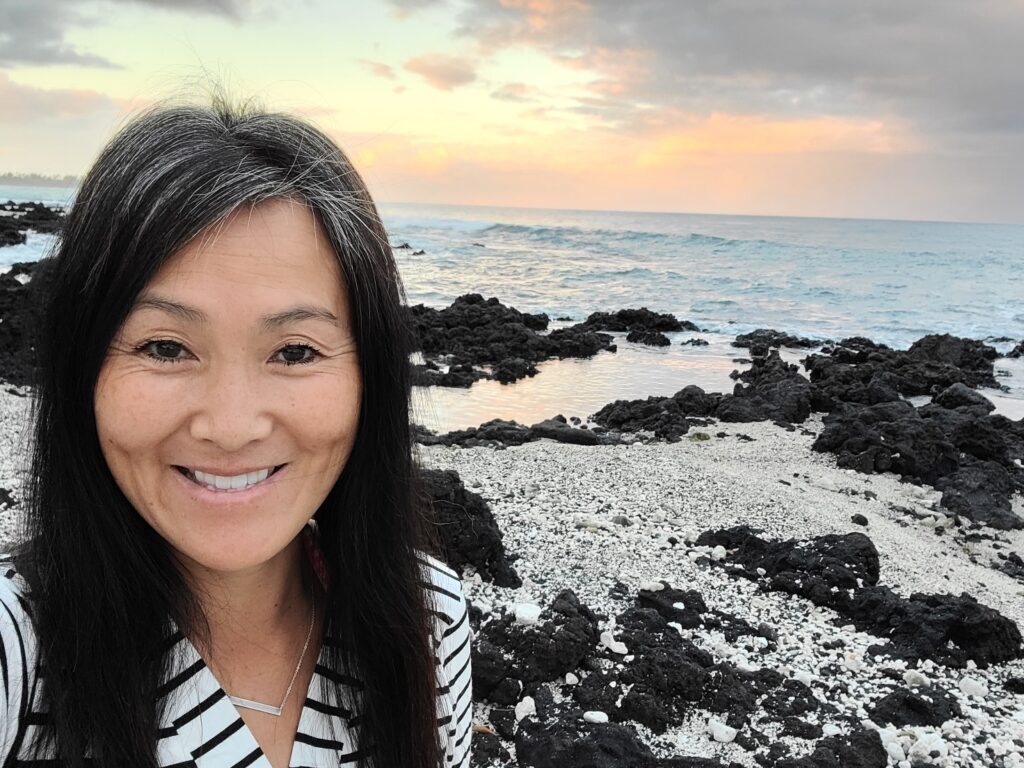 Debby's positivity, kindness and love to serve, comes from her upbringing and the opportunity her adopted parents gave her.
"I was born in Korea and was put up for adoption. A sweet family from California took me in and adopted me and I am so thankful to them," said Debby. "They have given me so much opportunity and so much love. They are a family of giving and that's just how I was raised. My family is a wonderful example to me and that's why I try to pass that on and make a difference each day."
When the global pandemic hit last year, the airline industry, like so many businesses throughout the world, was hit hard. Wanting to keep everyone's spirits up, Debby started making goodie bags to hand out to SkyWest crewmembers, as well as other airline workers traveling to and from work.
With a thoughtful note, as well as chocolates or a rice crispy treat attached, Debby has been handing them out or leaving them behind on flights for her fellow crewmembers over the past year.
"Sharing is caring and I enjoy putting a smile on someone's face," she said. "That's what it's all about. One person can make a difference and small things can turn into big things."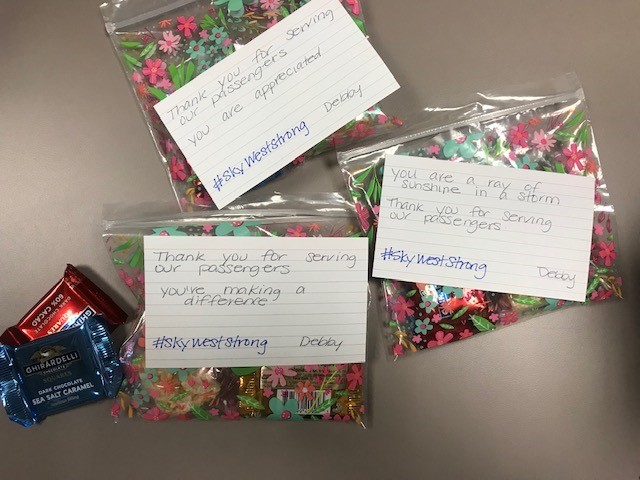 On top of that, Debby also recently started a sock drive to help local charities.
"Debby is always making the days of her passengers and fellow crewmembers brighter," said Paul Caldwell, InFlight regional operations manager. "From creating goodie bags to starting a sock drive to help the less fortunate, I am so appreciative that she is always thinking of ways to make an impact on others. I can't thank her enough for her care, compassion, and thoughtfulness for others, especially during this time that has been difficult for so many."
No matter which of SkyWest's 18 crew domiciles that she has worked out, Debby is grateful for the opportunity to come back to SkyWest — with its family-friendly culture — and to work with great coworkers each day.
"People ask me why I don't go and work at major airline carriers and I tell people it's because I love it here and that it really hasn't crossed my mind," she said. "The fact that so many people are still here that I worked with when I first started at SkyWest, really says a lot about the company."    
SkyWest is proud to celebrate Women's History Month and we look forward to highlighting more female team members like Debby who continually go above and beyond to make SkyWest the best airline in the industry.
Join us: SkyWest is excited to take part in the virtual Women in Aviation Conference, March 11-12, 2021. As one of the largest regional airlines in the world – with nearly 2,000 daily flights and more than 450 aircraft — our recruitment team looks forward to chatting with you and answering your questions. Click here to join us and to learn more about taking your career to new heights.