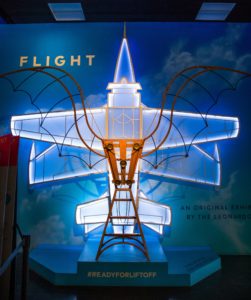 As the largest regional airline providing safe and reliable air service to more than 30 million passengers each year, the miracle of flight is at the center of the world we at SkyWest live and breathe every day. Our 11,700 professionals not only utilize their skills and expertise on a daily basis to safely carry more than 30 million passengers a year, but we also are active contributors to the communities where we live and work. So when the opportunity arose to be a part of the new FLIGHT exhibit at The Leonardo museum in SLC, SkyWest was a natural fit!
To help inspire and educate museum goers, SkyWest donated hundreds of used aircraft parts, components and, perhaps more importantly, members of the maintenance team donated their own time to assist in reconstructing parts of the exhibit. While SkyWest has never operated the C-131, our maintenance experts assembled the aircraft (inside of the museum!), which serves as the exhibit's main attraction.
"SkyWest was founded on the belief that, through collaboration and innovation, we could improve our communities and the world around us," said Lori Hunt, SkyWest VP of People. "It's clear that our core principles resonate with the museum and its mission toward that same innovation and creativity. By sharing our love for flight with visitors, we'll continue to inspire progress, evolution and excellence in the world of aviation."
"We couldn't have completed the exhibit without SkyWest's generous donation, time and expertise in aviation," said Alexandra Hesse, Executive Director of The Leonardo. "They were truly a community partner and we are so proud to have them here as the largest carrier in Salt Lake City."
The Leonardo's FLIGHT exhibit is an immersive experience into the world and ecosystem of flight, featuring several components and displays. Of course, putting together such an exhibit, that includes a rebuilt C-131 aircraft, flight simulators and aircraft parts, requires authentic materials and professional expertise to assemble those materials. The exhibit opened Aug. 6 and is expected to be at the museum for at least two years. For more information about the exhibit, visit www.theleonardo.org.