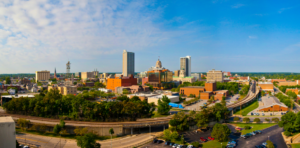 Established more than 200 years ago as a fort during the American Revolutionary War, Fort Wayne, Ind. is the seat of Allen County and the center of a bustling metropolis. And as Indiana's second largest city, Fort Wayne has an incredible offering of attractions and activities that are affordable, accessible and family-friendly.
The Fort Wayne Children's Zoo is internationally recognized for its innovative displays, award-winning animal exhibits and well-manicure grounds. Every aspect of the 38-acre facility is intended to delight the young and the young-at-heart. Here families can enjoy a canoe ride through the Australian Adventure exhibit after walking through the kangaroo yard. Sea Lion Beach is a state-of-the-art sea lion exhibit where daily behavioral training sessions are one of the most popular attractions. More than 500,000 people visit this wonderland annually and have given it a 9.6 out of 10 rating for being an exceptional zoo to visit. It is definitely a must stop on any family foray into Fort Wayne when it reopens on April 26, 2014!
The next stop on a weekend of family fun in Fort Wayne should be the Foellinger-Freimann Botanical Conservatory where nature is always in season! This oasis nestled in the heart of downtown showcases a multitude of indoor and outdoor exhibits, including the Tropical Garden where orchids and palms thrive year-round and the scenic vistas and shaded paths of the Exploration Garden. Families with younger children are encouraged to check out the Family Garden Close-Up class which features a different garden every month to help visitors learn fun and educational facts about plants and gardens!
Of course, nothing is quite as exciting or brings a family together like enjoying America's national pastime with the Fort Wayne TinCaps at Parkview Field! The TinCaps offer more for families than just a game, fans also enjoy the diverse entertainment available during games throughout the season and monthly theme nights – every Friday night in 2014 – where everyone is encouraged to have fun by dressing to match the nightly theme.
Fort Wayne's myriad of affordable family entertainment options make it a must-see destination for anyone interested in unique, wholesome fun. And with the addition of a fourth daily flight to Fort Wayne International Airport (FWA) from Chicago (ORD) in April, SkyWest Airlines is helping to ensure that not a single TinCap game is missed! Visit www.United.com to book a flight and begin planning a trip today.