SkyWest is home to some of the best aviators in the industry who are highly sought after thanks to high-quality training programs, experience and commitment to quality. Flying for four major airline partners into more than 250 airports across North America, SkyWest pilots have more exposure to opportunity than any other regional pilot.
One SkyWest pilot, Captain Victor Mourao, was recently recruited by his top choice mainline carrier. Before his final departure, Captain Mourao shared his thoughts about his SkyWest experience:
"I love this company, I love our people, and it has been a true home during my time here. I feel like I have not only grown as a pilot, but also as an individual," said Captain Mourao.
This Minneapolis-based Captain had the opportunity to interact with hundreds of pilots regularly. He had nothing but compliments for his 5,000 pilot team members and credits SkyWest for his ability to secure his first-choice carrier.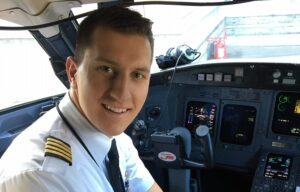 "This growth has come from the associations that I have been able to foster, and the privilege to have worked side-by-side with such passionate, high-caliber professionals here at SkyWest. I am a product of the culture, the people, and the experiences I have had while working here, and I will be forever grateful for all that this 'little' airline, out of St. George, Utah, has allowed me to become."
For Captain Mourao, despite the cold, Minneapolis quickly became a warm community he enjoys calling home, where he spent the last five years learning and growing as both a pilot and a person.
"I raised my little family here and had many wonderful growth experiences because I was awarded MSP out of training. The people, and their work ethic and warmth, make it a special place – and they make MSP a truly fantastic place to work."
Captain Mourao noted the people he was able to work with every day made all the difference, noting their professionalism and the many lifelong friendships fostered.
"I'll be leaving SkyWest a better man, professional, and pilot, with a treasure chest of friends whom I will cherish for the rest of my life. It's been an amazing ride, and while I feel like I could have done more, I'm proud of the work that I've been given the chance to contribute."
A common theme across the company is SkyWest's people make the airline a great place to work. Whatever their skillset, from the flight deck to the hangar, from the gate to the cabin and everywhere behind the scenes, SkyWest people often provide a similar response,
"SkyWest Airlines is the envy of the industry, and that's in great part due to their ability to lead such a highly capable team of professionals."
We wish Captain Victor Mourao best of luck on his new adventure and thank all of our incredible people for making SkyWest such a great place to work.
Click here to join our team today.