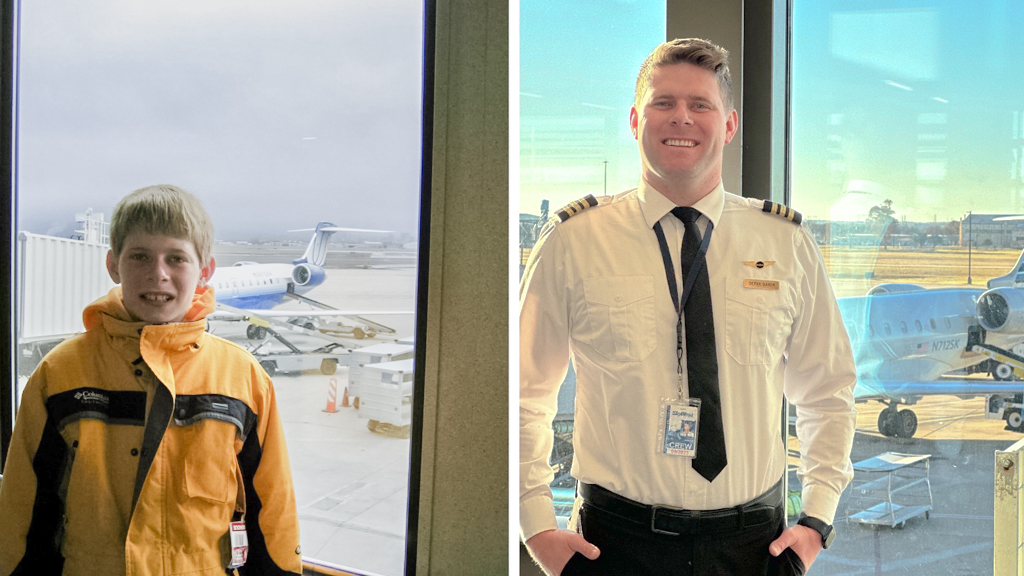 Many young passengers dream about what it would be like to be in the flight deck, flying an airplane when they are traveling. For SkyWest CRJ First Officer Derek Baker, that dream truly came full circle when he recently made an unexpected discovery.
"I was going through some old photos and found an image from when my family and I visited Salt Lake City, Utah on a ski trip," said Derek. "After taking a closer look at an image of 10-year-old me at the airport, I knew that I recognized the tail number, N712SK. It was definitely a SkyWest aircraft!"
Derek has been a CRJ pilot with SkyWest for almost four years now and was completely unaware of the connection he had with N712SK.
"After a week of finding that photo, I flew the same tail number from Dallas-Fort Worth, Texas (DFW) to Austin, Texas (AUS)," he said.
Following the flight, Derek made sure to re-create his childhood photo in front of the aircraft that he now operates as a pilot. He noted how surprising it was to find the image of his younger self and how much he loves being able to fly the aircraft as a pilot.