For most of us in aviation, we distinctly remember always having a fascination with the miracle of flight. And this is no different for Detroit based First Officer – Brooke Patterson. Inspired by her mother's successful flying career and love of aviation, Brooke embarked on her own path to becoming a pilot. Read her story below!
---
My mother had been a pilot for United since before I was born, and because of that I was exposed to aviation at a young age. I was fortunate to have parents who wanted me to find my own path in life and encouraged me to explore all of my career options. I graduated high school and went to college with an undeclared major.  Although I love travelling, I didn't know I wanted to be a pilot until after I was well into college. There was something so exciting about showing up to the airport and looking at all of the "heavies" behind the glass windows. Boarding the airplanes, I always stopped by the cockpit to see the controls, panels and lights. I loved getting the window seat and listening to the pilots talk on the ATC radio option. (Remember when you could plug headphones into the armrest and listen in on the pilots talking on Channel 9?) I was the kid on the airplane with her faced pressed against the window staring at the ground below, hoping for a turbulent flight as it was "more fun". I knew I loved flying, but I never considered becoming a pilot because that was my mother's career.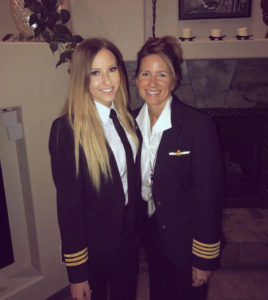 While I was still in college, my mother would occasionally bring me along on her trips. I got to see some really cool places, and my favorites were Beijing and Hawaii. Not only did I get to see the world, I got a behind-the-scenes view of the life of an airline pilot. I got to see flight ops, where the pilots meet before flights to go over their flight plans. I watched my mom go through her flows and set everything up in the cockpit before I went back to my seat. I loved watching her interact with passengers and hand out wings to kids who boarded the aircraft. This is when it finally clicked for me that this is what I wanted to do. I was actually on the beach in Hawaii while out with my mother and her crew when I decided I wanted to take an intro flight. I really admired my mom's hard work, dedication and passion for her job. She was an amazing role model for me, and I learned that with hard work and dedication I could achieve anything I wanted. Flying wasn't just my mom's career: now it could be mine, too.
It wasn't a surprise that after my first intro flight I was absolutely hooked on flying. With the support of both of my parents, I enrolled in ATP Flight School in Denver to get my ratings. In seven months, I went from zero flight hours to CFI, CFII and MEI. It was a seven day a week program to which I dedicated all of my time. I had amazing instructors who mentored and encouraged me all of the way. I loved how much I was learning and improving with each flight, and it only fueled my passion to get to the airlines. To build my flight time, I was a flight instructor based in Scottsdale, Arizona. It increased my knowledge base and put me in scenarios that allowed me to make pilot in command decisions. The experience that I gained during that time was invaluable.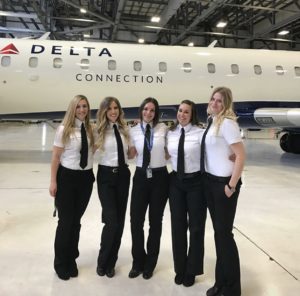 As I got closer to reaching 1,500 hours of flight time, I began interviewing with different regional airlines. I received a couple of job offers, but I knew SkyWest was where I wanted to fly. I love the crews I fly with and the sense of community I feel at work. I met some amazing people during new hire training who have become life-long friends. I absolutely love what I do for a living. I'm so thankful for my supportive family, friends, instructors and co-workers who have encouraged and mentored me through my aviation journey. I wouldn't be where I am today without them.
---
For more information on becoming a SkyWest pilot, visit skywest.com/pilot.