Many pilots have a pivotal experience or memory that first aligned them with a desire to take to the skies. Detroit-based SkyWest CRJ Captain Alexander Hilsen encountered many of those moments from an early age. With both parents and an older sister as pilots, Alexander grew up in an aviation-focused household that took his career aspirations to new heights.
Here he shares his experiences and the part his family played in his aviation journey.
---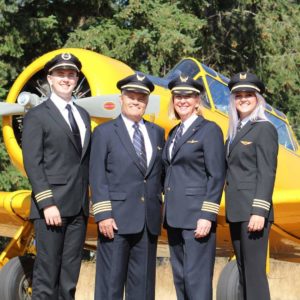 Growing up with two pilots for parents was interesting and unique, with everyone wondering the same thing:
"What was it like having both of your parents gone all the time?"
Well, it wasn't like that. That was just normal to me. I got to spend some time with Dad, then I got to spend time with Mom, and then my sister and I got the house to ourselves for a few days. Something I began to understand in my adolescence was that I actually saw my parents more often than my friends did. They never had to take their work home with them. During their days off they could enjoy their hobbies of horse riding, hunting and flying little airplanes.
Although some birthdays were missed, and they sometimes had to work on Christmas or Thanksgiving, Amelia and I both understood that it came with the territory. My sister and I loved flying when we were little. My dad got exhausted from taking us weightless over and over.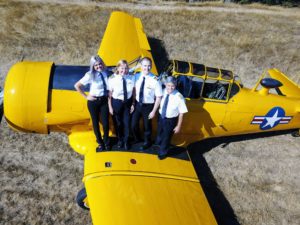 My first memories of flying were when I was four years old. We had to take the cushions off of the couch so that we could see over the cowling of the 172. My dad would then tell me to pretend I was flying an F-16 and to shoot down imaginary enemies. There was no question that we had achieved air superiority over Enumclaw, Washington.
Having airline pilots as parents came with other benefits. When I was 13, my dad was able to secure a simulator slot for me in the 747. It didn't take long before I was putting out triple engine fires and flying inverted under the Golden Gate Bridge.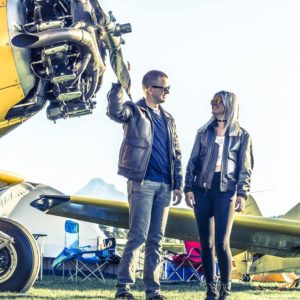 I've had the privilege of riding in the back of both my parents' airplanes. When I was 14, my dad flew my sister and me to Narita, and when I was 16, my mom flew us to London. In 2017, I used my jumpseat privileges to sit in the jumpseat next to my mom for a trip to Honolulu. It was awesome to see my mother at the helm of a 777-200, hand-flying a "slam-dunk" arrival, just as I'd done in a SkyWest CRJ a hundred times before.
Training and instructing together with my sister Amelia has also brought us closer as siblings. Learning the skill and getting to fly old and exotic airplanes is something that we have shared and bonded over. I feel really lucky to have the opportunities that I've been given.
---
SkyWest pilots can truly Take Control of Their Pilot Careers, with more opportunity, exposure and access than any other regional pilots. Twenty domiciles and a fleet of nearly 500 aircraft allow career advancement and opportunity throughout the country. Learn more and apply here.