One of SkyWest's former captains, Kaleb Lusby, recently wrote a letter describing how he got started at SkyWest and how the nine years he spent at the airline prepared him to get his dream job at a legacy carrier. Here's his story: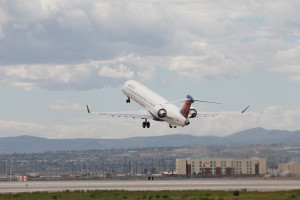 When SkyWest Airlines hired me in 2007, it was apparent immediately that this was a different kind of airline. The environment in which I worked was one that cultivated joy and fulfillment, and helped mold me into the pilot I am today.

My aviation journey started in January 2001 when I was a high school senior wanting to become an airline pilot. I accomplished ground school while finishing my last semester of high school. After graduation I started my flight training at the local airport. By August I was a certified private pilot and, I began my college education at University of Central Missouri in the Professional Pilot Program.

While accomplishing my four year degree, I was also earning credits for flying. This took dedication and passion, flying over weekends, training over breaks and lots of long nights studying. My junior year in college I was hired as a flight instructor for UCM. I spent my final two years building flight time and training some of the best aviators around. My final semester at college, the local dispatch received a call from an air ambulance pilot who had been through the flight program in the past and was looking for a copilot. After interviewing, I was selected and spent two years flying for Children's Mercy Hospital in Kansas City as an air ambulance pilot.

Then, in February of 2007, I was hired at SkyWest and started training soon after. The tone the instructors set was caring and understanding. If you needed help and asked, you would receive it. Spending time in the right seat as a first officer, I approached every trip as a learning experience, knowing soon I would be in the left seat and commanding the aircraft. SkyWest people take care of their customers and each other.

Once I upgraded to Captain, I could see that the "tone" of the flight was largely dependent upon my actions and attitude. SkyWest had been preparing me for this seat since day one. Little did I know that SkyWest crewmembers had been modeling what it meant to take care of each other, to operate on time and perform with safety as the number one priority. It doesn't end in the flight deck either; everyone involved has like-minded goals.

During my time as a captain I applied to be a pilot recruiter as well. This was truly an honor to be a part of, because everything that makes this company what it is, starts with who we hire. The people of SkyWest make this company a truly different kind of airline.

This culture that I worked in for nine years helped mold me. And having some of the best training and leadership available, flying great aircraft with phenomenal crews, all within a culture that is truly amazing, helped me to land a job at a legacy airline. Everything I learned during my time at SkyWest has benefited me in my career.

SkyWest is the kind of airline you can stay at for your entire career; however, my dreams and ambitions involved overseas flying. Thank you, SkyWest, for nine wonderful years.

Sincerely,

Kaleb Lusby – MD88 First Officer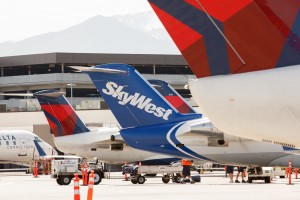 SkyWest has been partners with major airlines for decades and we've recently signed new flying agreements with United Airlines, Delta Air Lines, American Airlines and Alaska Airlines, giving our pilots more opportunity and exposure than any other regional pilot. Take control of your career with SkyWest. Check out our pilot career guide for more information.