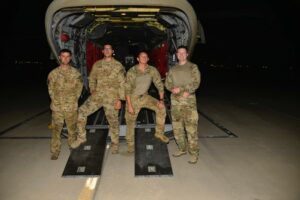 SkyWest people are known for going above and beyond and it's not just limited to our flights. Brady Hlebain, a SkyWest first officer, and Joseph Rosamond, a member of SkyWest's pilot cadet program, who are part of the California National Guard, flew a CH-47 Chinook helicopter that helped rescue more than 200 people trapped near Mammoth Lakes California.
The call for assistance came in on Saturday, September 5. Hlebain and Rosamon, along with their flight engineers, Sgt. Cameron Powell and Sgt. George Esquivel, knew that the night flight would not be an easy one.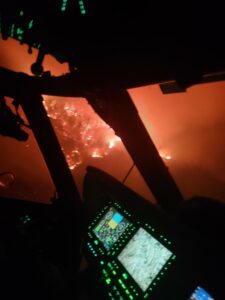 "I have done search and rescue missions, hundreds of combat hours overseas, as well as aerial firefighting, but this mission was very complex and dynamic to say the least," said Hlebain. "Our team was an experienced group of guys who are all experienced in missions of this nature. We constantly train with night vision goggles, mountain flying, high-elevation, limited power margin, multi-ship flight, navigation in unfamiliar areas, dust landings, low visibility flight, firefighting, unimproved landing zones and first aid. However, it is rare that we do all of those things at the same time."
The team was given coordinates of the location of those needing to be rescued, but had no idea how many people would need their help. As they were flying, they soon realized the coordinates they were given were not as accurate as they had hoped. Even as visibility dropped due to high flames and smoke, the team did not give up and were able to get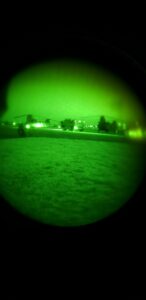 new coordinates. They flew from ridge to ridge, avoiding the clouds and smoke as best they could, before finally landing in the wee hours of the morning at the Mammoth Pool Reservoir in the Sierra National Forest.
Flying the CH-47 Chinook helicopter, Rosamond and Hlebain made multiple trips to save more than 200 people from the fast-moving forest fire. They were assisted by another team flying a UH-60 Black Hawk helicopter. With so many unique challenges on top of tough conditions, this mission was one of the most difficult of their careers.
"The only word I can use to describe it is Apocalyptic," added Rosamond. "It was extremely difficult to see the terrain and what was in front of us. It was pretty nerve-wracking, but our crew worked perfectly together, which allowed us to accomplish our task."
Hlebain said the team didn't want to be made out as heroes and noted that they are tremendously grateful to their families for their sacrifice and for allowing them to do these kinds of missions.
"The recent media coverage has made us out to be heroes, but our team agreed that we didn't do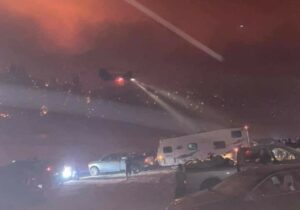 anything that any other aircrews wouldn't have done had they been in the same situation," said Hlebain. "We were only one piece of the operation and couldn't have done it without the help of local EMTs, police, firefighters and many other agencies."
"The bravery from each and every crew member on board both the CH-47 and the UH-60 were amazing and I could not have done it without them," added Rosamond. "They each made a personal choice to continue into the worst of conditions."
When he's not fighting fires and participating in search and rescue missions, Hlebain can often be found onboard one of SkyWest's nearly 500 jets flying passengers to destinations across North America.
While balancing two jobs at once is a challenge for anyone – especially in the aviation industry –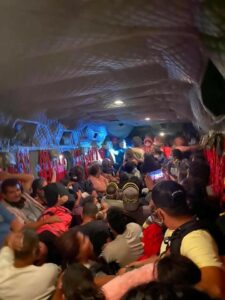 Hlebain added that he is grateful for SkyWest and the support he has received which has allowed him to do both.
"Knowing two different aircraft, two sets of rules, and especially balancing two schedules can be difficult," he said. "That being said, SkyWest has been incredibly supportive and provides me the opportunity to do both. When there is a conflict of schedules, SkyWest has been nothing short of perfect for my work/work/life balance."
Thank you, Brady, Joseph, and the rest of your team for your efforts, bravery, dedication and sacrifice to save the lives of so many.