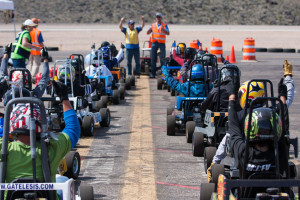 SkyWest Airlines will once again "put the pedal to the metal" in 2013 in a race to benefit local charities. The 13th annual Mini Indy event, sponsored by SkyWest and the City of St. George, will bring in nearly 40 teams from around the world to SkyWest's hometown of St. George, Utah. There, the teams will golf the world's best courses and race go-carts head to head – with all proceeds benefiting United Way Dixie and the SkyWest Scholarship Fund.
"Mini Indy is part of SkyWest's tradition of giving back to our hometown," said Chip Childs, SkyWest Airlines President and COO. "Year after year, the industry's elite bring their golf game and go-carts – and we look forward to passing the $1 million mark in donations benefiting local charity in 2013."
In the last thirteen years, this unique event has raised nearly $1 million to help charities in Washington County. In 2012 alone, Mini Indy raised more than $65,000 for United Way Dixie, providing enough funding for the organization to fund four additional non-profit agencies for 2012 and 2013 – bringing the total of charities served to 17. This includes agencies such as the Dove Center, Big Brothers Big Sisters of Southern Utah and Habitat for Humanity of Southwest Utah.
Melissa Ann Santora, Director of Community Engagement for habitat for Humanity of Southwest Utah, has volunteered at Mini Indy for several years.
"Our community is blessed by the continued success of Mini Indy," she said.
"Without the generosity of our sponsors involved in Mini Indy, we would not be able to fund the agencies that provide important human services to our neighbors in need," continued Rebekah Pectol, administrator, United Way Dixie.
The checkered flag will fly on Friday, March 22 at the "RidgeTop Raceway," formerly the SGU airport. There, go-cart enthusiasts and adrenaline junkies will compete in a series of heats throughout the day. With fierce turns, obstacles and speeds up to 23.5 miles per hour, this year's Mini Indy is sure to live up to the excitement that the race is known to deliver!
For more about Mini Indy, visit www.miniindy.org.