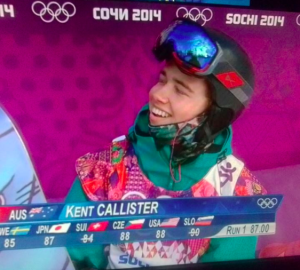 The people working at SkyWest Airlines are truly what makes the company great. And SkyWest pride was running high as 18-year-old Kent Callister, son of Kim Callister, a SkyWest flight attendant based in SFO, made his Olympic debut in Sochi. Kent is the first Australian man to finish in the top 10 in the snowboard halfpipe at the Olympics.
Kent moved with his family from the Gold Coast in Australia to Oregon when he was 10. He came up through the U.S. junior snowboarding ranks and was even invited to the U.S. team. Kent chose to join the Australian team because of their amazing training program and with the hope of one day going to the Olympics.
Even as he was making his way through the senior international ranks, Kent didn't expect he would ever be included among the ten best in the world at Sochi. In fact, he just learned his two different double corks in the weeks leading up to the games but has shown considerable composure to perform them for the first time under the pressure of Olympic competition.
"It was more than I ever expected," said Kent when he reached the final. "It was just unreal, that's the best contest I've ever been in. It was the best day of my life too. I just had so much fun out there riding with everyone.''
"We could not be prouder of our son!" says Kim. "He is not only an amazing athlete, but he is the kindest, most sincere, fun-loving child we could ask for (besides our daughter)!"
Congratulations, Kent on an amazing performance!