SkyWest Fantasy Flight – COS
At the 11th annual Fantasy Flight, SkyWest crews gave Rudolph the night off, welcoming 30 eager children onboard a CRJ200 for a 30-minuite flight to the "North Pole." Partnering the Junior League of Colorado Springs and CPCD…giving children a head start, the night spread holiday cheer to children who live at or below poverty level.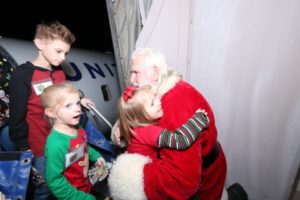 "Fantasy Flight brings a magical atmosphere of wonder and cheer to the children in Colorado Springs," said Lori Hunt, SkyWest's vice president of People. "Every year, SkyWest people are delighted to play a part in creating this unforgettable event."
These young passengers, many of whom would otherwise receive little to nothing on Christmas morning, were greeted by mascots, carolers as well as Santa and Mrs. Claus themselves as they enjoyed crafts, games, a festive meal and gifts from their wish lists in a Christmas wonderland created by volunteers. The goal of the event: to provide memories of happiness and cheer for each of the children involved.
"This is a special experience that not everyone gets to have, we feel so privileged," said Rebecca Brown whose son Ryman participated in the event. "As soon as we found out he was invited, he started flying around pretending to be an airplane. The whole thing has been a great time and experience."
The Flight to the North Pole – MKE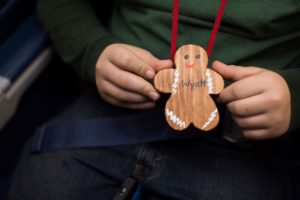 The Flight to the North Pole helped brighten the season for 72 children from Milwaukee Children's Hospital suffering from serious illness and their families as they boarded a SkyWest CRJ700 and took a 20-minute ride to the "North Pole" (a nearby hangar decked out in holiday style!). While it never left the ground, the festive ride provided much needed smiles and wonderment to the tiny passengers.
The event meant a little something more to the captain operating the special flight, Captain Tim Schuh, who's newborn son spent several weeks at Milwaukee's Children's Hospital this past summer.
"We are so thankful for everything Children's Hospital did for our family," said Captain Schuh. "They did several life -saving operations and treatments and were always so good at keeping us informed and teaching us everything we had to know. I wanted to take part in this event because it is a small thing that I am able to do to help the kids and the families that are going through difficult times there. I know how they are feeling. Even though my son has obstacles to overcome in life, many of the families at Children's are dealing with even more difficult news and prognosis."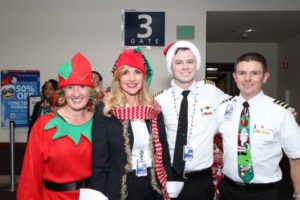 Both events, made possible through the hard work of SkyWest elves and countless volunteers from various other organizations, welcomed in the warmth of the holiday season providing a day full of Christmas magic to all in attendance! These events are another example of the many ways SkyWest people brighten the journey of passengers young and old.
Take a look at more photos from the events!