As part of SkyWest's Appreciation Week festivities, Chicago based crewmembers joined together to raise money for The Special Olympics in the ultimate tug of war – competing to pull a plane by a rope.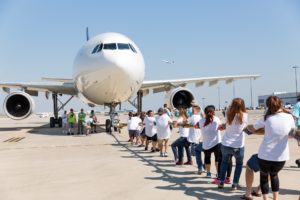 Teams "SkyWest" and "SkyWest Strong" put their muscles to the test pulling an Airbus A300; no easy feat considering it weights nearly 180,000 pounds! Beyond raising funds for a great cause, a good time was had by all!
SkyWest believes in supporting the causes our people are passionate about through the Spirit of SkyWest: Our People in Action program, which is set up to allow SkyWest contributions for any SkyWest team member participating in an eligible charitable 501(c)(3) cause. It's just one of the many ways SkyWest gives back to the communities we serve through our amazing people.