Melissa Serrano is no ordinary mechanic. Starting her career at SkyWest in 2015 in the ORD hangar, Serrano is now the first female maintenance controller in SkyWest Airlines history.
"I knew it was a man's field, but I knew it was something I could do," said Serrano.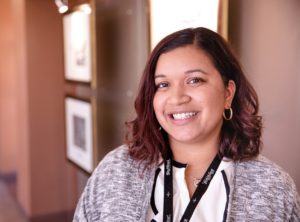 When an aircraft is removed from service for maintenance, the maintenance controller is consulted by line mechanics and pilots to help troubleshoot all procedures. After the aircraft has been properly diagnosed and repaired if necessary, it is the responsibility of the maintenance controller to give final clearance before returning the aircraft to scheduled service.
"With every aircraft that is put back into service, I put my license on the line. I sign it, it's my signature. It's something that I take seriously; I have worked too hard for this," said Serrano.
When she was a young girl, Serrano's mother drove an airport shuttle in Atlanta. She recalls going to work with her mother often, and as they drove the back roads to the airport Serrano would stare at the jetliners with amazement. She always enjoyed working with her hands and became addicted to the independence provided by fixing something herself. Later, she joined the JROTC, where she would step foot in an aircraft hangar for the first time.
"That first time I smelled jet fuel, I knew what I wanted to do," said a confident Serrano.
It certainly didn't happen overnight. Getting her A&P license alone was years of sacrifice and hard work. While in school full-time at AIM in Atlanta, Serrano worked as a parts clerk at a freight line, fitting 36 hours of work into her two-day weekend. On top of that, she went to school Monday through Thursday, and worked part-time at a hotel during the week.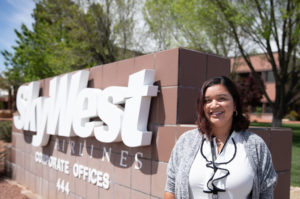 Serrano secured her first job, post A&P school, at a general aircraft maintenance company. There, she would learn invaluable lessons about asserting yourself and being confident in your abilities. Often being taken off projects because her male counterparts didn't feel comfortable working with a woman, she recalls one instance where she and a coworker were at impasse while diagnosing a problem. His demeaning remarks were that she would be better off making sandwiches. Her diagnostic was proven right.
"Do your research and know what you are talking about," says Serrano. "Then, you can confidently stand your ground, because you believe in what you say."
Once she made it to SkyWest, she worked hard on the hangar floor, learning from her many mentors. She quickly realized that SkyWest was different.
"SkyWest is a great place to work. If you want the experience, someone will take you under their wing. SkyWest takes me seriously, my supervisors take me seriously and they are confident in my expertise."
Serrano became interested in the maintenance controller position after talking with a co-worker. After a few conversations, she set her sights on becoming the first female maintenance controller in SkyWest history. After an intense interview process and extensive training, Serrano took her first solo shift with authority.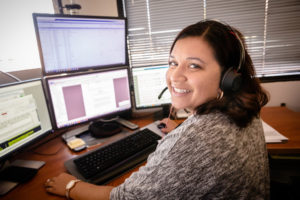 SkyWest Maintenance Manager Wayne Wignall says, "She has worked very hard and has come a long way. She does a fantastic job."
Serrano has a few words of advice for any woman out there looking to enter into what might be considered a man's profession:
"Stay positive. Feeling sad isn't going to do something for your future. Learn what you can and move on. Nobody should stop you from getting your experience; just work hard and have confidence in yourself."
Melissa, we are proud to have you on the SkyWest team. Keep up the great work and continue to soar!