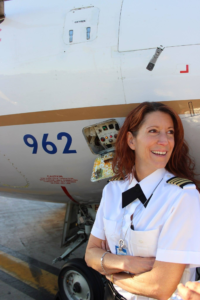 SkyWest CRJ Captain Suzy Garrett has much to celebrate this Mother's Day. Reaching 30 years of SkyWest service May 1, Captain Garrett is one of SkyWest's longest-tenured pilots and was the eleventh female pilot hired at SkyWest. Her husband Doug flies at American Airlines after a decade with SkyWest, their son Mark is currently building his flight hours and their daughter Donna began SkyWest flight training this month.
"We absolutely love our jobs. You don't see that too much in other occupations," Captain Garrett explained. "None of our kids were thinking about becoming pilots, but when you start looking at other careers that are out there, sitting in an office, and then see how happy we are — it opened their eyes."
Now, as Donna completes SkyWest's CRJ pilot training, she and Captain Garrett are SkyWest's first mother-daughter pilot pair. "I was exposed to aviation my whole life," said Donna. "I decided to fly because of my parents' passion and love for flying. They made it so much fun."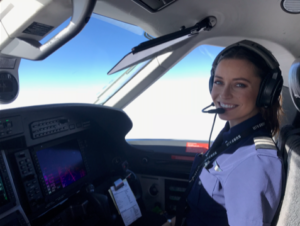 "I got to do a lot of traveling growing up," she continued. "I was exposed to the world, which was a big inspiration. Experiencing my mom and dad's lifestyle was wonderful. It exposed me to the possibilities the industry offered."
Captain Garrett agrees that aviation has opened many doors throughout her 30-year career.
"I am super grateful for this job," she said. "For women, the work schedule flexibility is a plus; the ability to have a family. What better career is out there where you can make this kind of money and not have to have high stress by taking your work home with you? Scheduling is a big reason why I've stayed with SkyWest. It was great when the kids were growing up. I could volunteer for field trips, parties at school and be that mom, while also having this wonderful career!"
Captain Garrett also talks about how their family enjoys traveling together.
"We've taken the family everywhere," she said. "We've been able to get away from normal life and the house and escape on these vacations to have good, quality time together. It didn't matter whether it was Germany, China, Costa Rica or Africa: You're making memories of a lifetime. My middle child became very savvy and could soon piece together routings for our trips better than I could."
And now she has the joy of knowing her daughter Donna has joined the SkyWest family.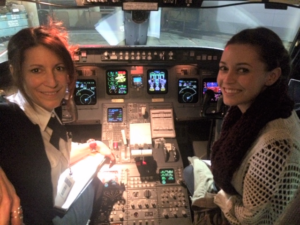 "I love it! I really love it. It's neat having your kid experience what you've gotten to experience. She's part of the SkyWest family. I think it's going to be a great career for her. She likes having variety and excitement in her life."
Captain Garrett is a trailblazer in many ways. Starting with just a few other female pilots in the industry 30 years ago, she describes how things have changed throughout her career.
"[Back then] I wouldn't draw attention to myself at the airport," she said. "Believe it or not, I used to hide. The climate has changed; the reaction from the passengers has changed. Today I feel like I can be a role model for young girls who come on board and show them what's possible. The doors are open: You can be anything!"
Donna continued, "Don't ever disqualify yourself or think that there is anything limiting you just because you are a woman. There are so many opportunities to be successful in this industry. Find mentors: other people who are doing what you're doing and what you're aspiring towards. Meet other people who are doing the same thing. Finding friends and peers who are going through the same thing you're going through is extremely helpful. I'm so grateful I have my mom as a resource."
Donna understands that her mother is in many ways a pioneer.
"Mom being a commercial pilot normalized it for me. Being exposed to the rest of the world, where things hadn't caught up yet, opened my eyes. Seeing the world shifting is cool. It's cool seeing more and more women getting into the industry."
Captain Garrett and Donna look forward to their first flight together and are thrilled to be SkyWest's first mother-daughter pilot pair.
"It's exciting and something I'm proud of," Donna said smiling. "I had no idea how rare it was! It's a cool moment for my mom and me and for women in aviation in general."
Thank you, Captain Garrett. To mothers everywhere, SkyWest wishes you a happy Mother's Day!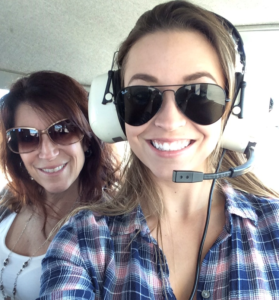 Proudly employing over 13,000 aviation professionals, SkyWest operates nearly 2,400 daily flights. Together, these individuals connect millions of passengers each month to 258 destinations across North America. Learn more about SkyWest, and career opportunities available to you, here.