Applying and interviewing for your dream job can be a bit daunting, but to help you here are some tips to help you feel prepared for an interview at SkyWest Airlines:
Do some research! A good place to start is on our company "About Us" page and our SkyWest history timeline.
Study the duties and qualifications of the job from the career guide and application. Be ready to speak confidently about your skills and how you are capable of fulfilling – and exceeding — expectations. Come prepared with ways you would be a good fit and how you could positively add to SkyWest's team.
Dress appropriately and be prepared with thoughtful questions.
Be yourself and show off how you'd fit in the SkyWest team! At SkyWest, we always welcome professional and positive team members who are exceptional at their craft, enhance our company culture and represent our Guiding Principles:

Health and Safety First
Excellent Service and Quality
Personal and Operational Reliability
Fairness and Consistency
Respect and Teamwork
Personal and Corporate Integrity
Superior Profitability and Efficient Use of All Resources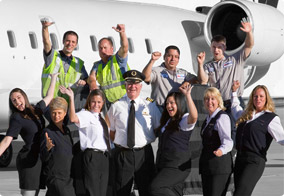 You've got this. SkyWest Airlines was named on Glassdoor's "Best Places to Interview 2017" list. Come and see for yourself how great interviewing at SkyWest is! Find open positions and apply online at www.skywest.com/careers.