For many, the task of going to the airport, boarding a plane and reaching their final destination is pretty simple. Most travelers have learned that lines and big crowds in the airport are a typical part of the travel process. But for others, especially those on the autism spectrum, and their families, the task of going to the airport can be new and stressful. That's why SkyWest Airlines once again teamed up with Fresno Yosemite International Airport, The Arc of Fresno, TSA, Delta Global Service and Hewlett Packard, to offer Wings for Autism in Fresno for some very special passengers.
Wings for Autism offers airport "rehearsals" specifically designed to alleviate the stress that children with autism or intellectual/developmental disabilities, and their families, experience when flying.
"Going through security for the first time was a little intimidating," said SFO First Officer Antonio Puentes, who volunteered at the event. The event was even more meaningful for First Officer Puentes because his son, Mateo, is autistic. "Coming through and you've got these machines, and you've got people standing around. You've got the big conveyor belts. That can be very stressful. And so getting through that with an extra help was a tremendous benefit for them."
As part of the event, 50 children and their families got a first-hand look at what to expect at the airport and on an aircraft. After checking in at the ticket counter, they were greeted by members of the TSA, who explained what to expect in the screening process. They then gathered at the gate, where SkyWest crewmembers greeted them and talked to each child individually.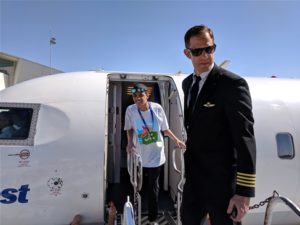 The children then boarded a SkyWest CRJ200, complete with a special sendoff from crews lined up on each side of the aircraft. After a full safety demonstration from the flight attendants, they taxied around the airport while enjoying snacks and beverages. They were welcomed back to the gate with high fives and plenty of smiles.
"It's such a great experience, being able to fly and go new places, and they get to experience that by going through this process first," said Melissa Perry of the Fresno Yosemite Airport. "They are getting a social story to help them through exactly what they did today, and then they can take that with them when they get ready to go on their [next] trip."
Thank you to the SkyWest people who volunteered countless hours of coordination and expertise to share their love of flying and provide these families with memories that will last a lifetime! Learn more about joining the SkyWest team.