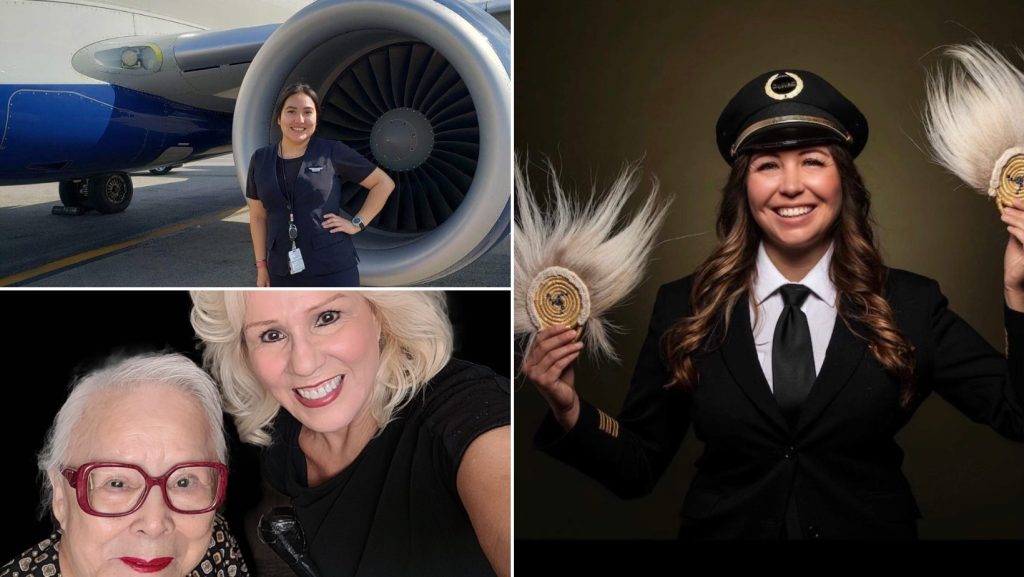 SkyWest is home to incredible people. This includes First Officer Emmalee G., and Flight Attendants Nicolette S. and Valerie S. who each shared their thoughts about Native American Heritage Month and how their background and experience has been a part of their careers at SkyWest.
Nicolette S. – SLC Flight Attendant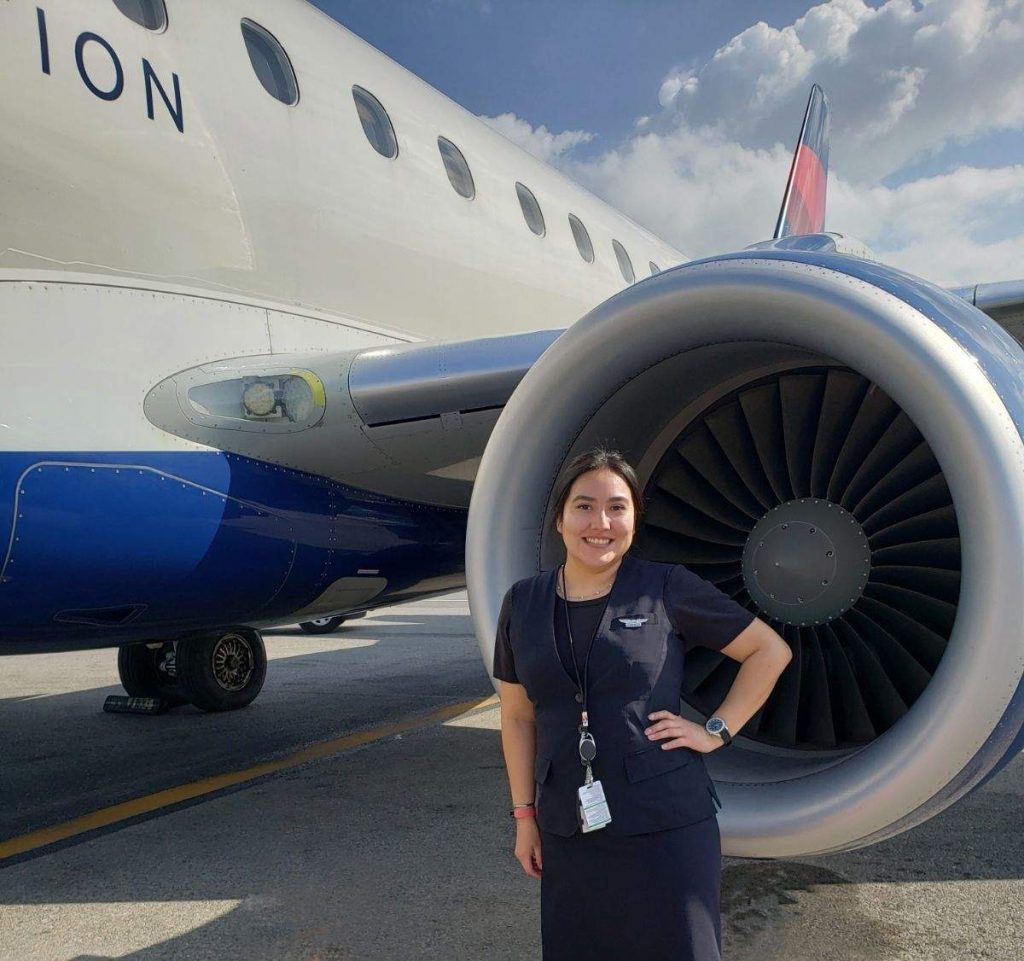 For Nicolette, becoming a flight attendant meant taking a chance on a career that was totally unknown to her. She joined the SkyWest team as the first class of 2017, an experience that she calls transformative.
"I can't imagine leaving the aviation industry," said Nicolette. "It's allowed me to explore many opportunities. I only wish I had gotten my foot in the door a lot sooner, as I'm so grateful to work for a company that recognizes diversity and community."

In celebrating Native American Heritage Month, Nicolette emphasizes the importance of acknowledging the rich and diverse cultures, traditions, success, and contemporary representation of Indigenous People. She is also very happy to be in a position of strong connections to her roots, highlighting her pride in working for a company that recognizes diversity.

Nicolette considers it an honor to represent the Dine' (Navajo) spirit while flying. She aims to make her community proud by raising awareness about topics close to her heart and strives to contribute to increasing opportunities in the aviation industry for Indigenous People.
"I'm blessed for all the love and support from family and friends," said Nicolette. "It's an honor to spread the Dine' spirit while flying."

Looking ahead, Nicolette looks forward to returning to Dine'tah (Navajo Nation) to spend time with her family and friends. Engaging in family activities like cooking, beading, and winter storytelling by a warm fire are things she finds grounding and that hep connect her to her identity and aspirations, both in the air and on the ground.
Emmalee G. – DTW First Officer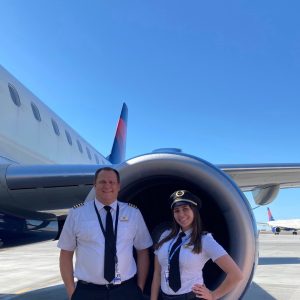 Four years ago, Emmalee was motivated by her brother – a fellow SkyWest pilot – into transitioning from flight instructing to apply as a SkyWest pilot. It's a decision she considers among the best in her life. Flying alongside her brother and sharing the flight deck with other Native Americans "has added a unique dimension to her aviation experience."
In recognizing Native American/Alaska Native Legacies this month, Emmalee believes it's very important to share with others the historical impact of these communities.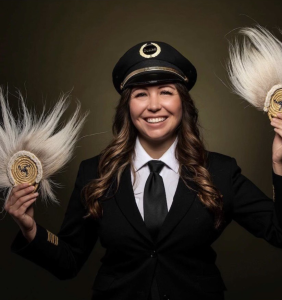 "It's important to recognize these present-day heroes," said Emmalee. "Native Americans/Alaska Natives have a rich history of contributing positively, and breaking barriers. We are here, proudly representing our cultures throughout the world."
Learning about her heritage and culture through books and conversations with family members, Emmalee is excited to become a mouthpiece of her history and looks forward to following her family's footsteps. Her mother, in particular, crafts Kuspuks (similar to hoodies) for family members, a talent she said inspired her to learn Iñupiaq, a native language fluently spoken by only about 2,000 people. Despite the initial challenges of learning due to limited resources, Emmalee finds joy in finding new learning tools, and credits the guidance of a family friend from Nome, Alaska.
For Emmalee, this month is all about learning. Learning more about her ancestors and about her native language becomes a meaningful way to celebrate and connect with her heritage and culture.

Valerie S. – DEN Flight Attendant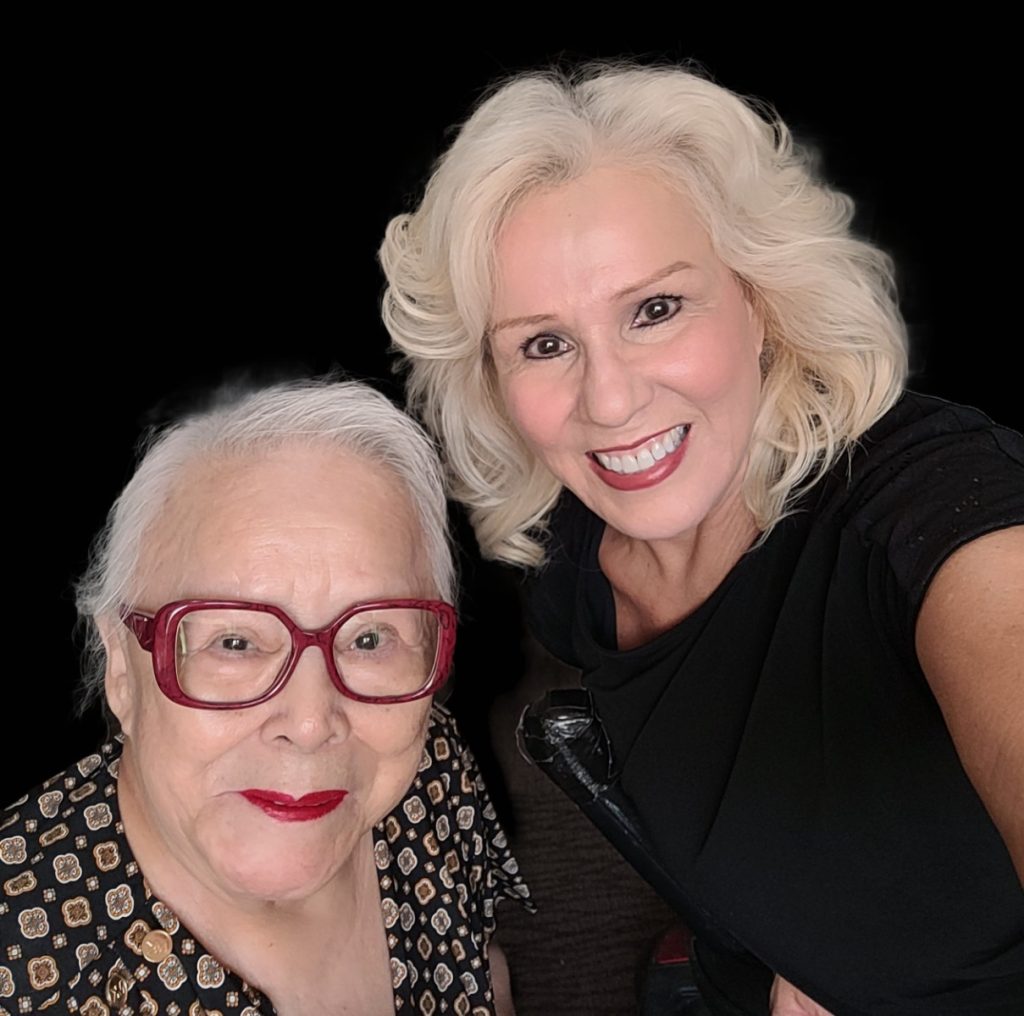 A proud member of the Leech Lake Band of Ojibway Tribe on the Cass Lake Indian Reservation in Northern Minnesota, Valerie's heritage reflects a blend of an Ojibway mother and a Norwegian father. She got her start at SkyWest thanks to a friend, Jill Roundy, a SkyWest flight attendant, who encouraged her to attend a group interview.
"When I realized Skywest is contracted to fly into the Bemidji Regional Airport (BJI), which is only 16 miles West from Cass Lake, I was excited," Valerie said. "I could now visit my family more often, and I could also give them the opportunity to travel the world."
Drawn by the proximity to BJI, she accepted the job offer and began training. For her initial five months at SkyWest, she was based in Minneapolis, Minnesota but a transfer back to Salt Lake City, Utah came a month before the passing of her father. Grateful for the moments and memories her employment with SkyWest provided during this challenging time, she cherishes the ability to spend those precious last moments with her father.
For Valerie, this month is a great reminder of what her heritage has done for her life. Her tribe's support played a crucial role in her earning both a bachelor's and master's degree. As a Social Worker, she dedicated her time to giving back, focusing on services tailored for Native Americans, including mental health counseling for LDS Social Services.
Beyond academic pursuits, Valerie represented her tribe in athletics, qualifying for the First Women's Olympic Trials in 1984 and the 1988 Olympic Trials. Her tribe's support, demonstrated through a "Blanket Dance" at a local Pow Wow, helped fund her participation in these events. Valerie's achievements include winning the Salt Lake City Deseret News Marathon three times, securing second place at the St. George Marathon, and induction into the St George Marathon's Road of Fame.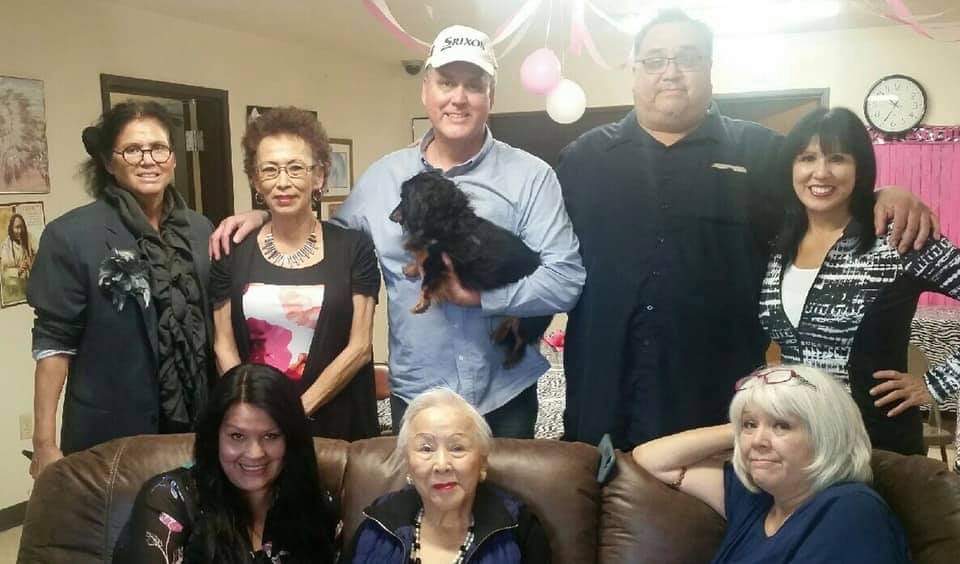 Throughout her career with SkyWest, she has cherished four-day trips that allowed overnight stays, offering precious moments to visit family. Her travel privileges also allowed her to attend a surprise birthday party for her mother and to be together with all her siblings for the first time ever. It became a cherished memory, especially since one of her sisters passed away not long after.
"I'm grateful for the opportunities SkyWest has provided me to travel the world and visit my family," Valerie said. "I'm thankful for my Native American heritage, and I will continue to live to make my tribe proud of me."