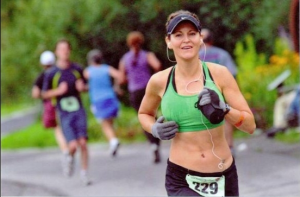 When Bekki Manville's brother invited her to run a Rock 'N' Roll half marathon in 2008, the Denver-based SkyWest flight attendant accepted the challenge, mostly because she learned she could receive a Superman medal if she ran the whole series. Little did she know that five years later she would become the just the sixth female and first Coloradan (male or female) to run a marathon in all 50 states, all under four hours.
After running 11 half marathons and one full marathon, in which she qualified for the Boston Marathon, Bekki knew she had to keep training. In 2009, she decided to run one marathon per month with no specific goals other than to see how many she could do and to enjoy the adventure. After completing eight marathons, the goal of running all 50 states, while daunting, started to seem attainable. She was finishing with awards, recovering quickly and having no pain. Bekki was blessed with a natural talent and knew she couldn't throw away such a valuable gift.
After 25 states, Bekki was invited into the 50sub4 Marathon Club, a club supporting runners with a goal of running a marathon in all 50 states under four hours. Once the club reached out to Bekki, she became determined to finish the 50 states and D.C. under four hours and before her 40th birthday. On Sept. 1, 2013, on her 40th birthday, Bekki accomplished her goal in Hawaii in 3:30:12, becoming the youngest female to accomplish the feat.
"It's always hard and I always hurt, but it's amazing what positivity can do," says Bekki. "Some races don't have enough water, or it's too hot or the hills go straight up, but it helps knowing we're all experiencing the same challenges together."
One of the biggest challenges Bekki faced was getting to and from the starting line. She made it to every state by planning races around her work schedule and where her duties as a flight attendant would be taking her. She even spent nights in her car and in airports but has no regrets. "My co-workers, especially the pilots and other flight attendants I have worked with, have been so supportive and not a trip goes by that I don't get asked what number I am on," she says. "It creates a camaraderie in which we share our stories and advice."
If 50 marathons under four hours isn't enough to impress you, you may be interested to know Bekki has won four marathons and placed in 31 others, including a victory over her twin brothers in the Layton, Utah marathon!
So what's next for this running machine? Although she completed an Ironman in 2010, she feels she has unfinished business with triathlons. And with 62 marathons under her belt, she figures she may as well just make it an even 100!
Congratulations, Bekki on your amazing accomplishment and good luck on getting to 100!