Southeastern Wyoming is known for wide-open prairies, horses and cowboys. And while those descriptions are accurate in many instances, they only give a small glimpse of everything that can be experienced when visiting Laramie, Wyo.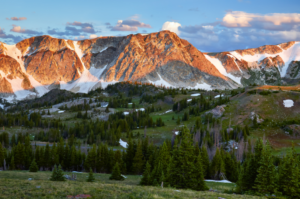 Laramie is home to about 30,000 people, but when the Cowboys, the University of Wyoming football team, are playing, that number skyrockets. When there is a home game, the city is literally bursting with loyal, cheering fans that often fill the 29,181-seat stadium to capacity. There's nothing quite like the electric charge in the air when experiencing a game that an entire community rallies around.
As the only four-year university in the state, UW is a great place to experience Laramie and there is always plenty to do. Two highlights are the art museum and the Natural History Museum. The art museum features works from Albert Bierstadt and Pablo Picasso, along with stunning landscape photography and modern artwork and the Natural History Museum features a 75-foot tall Brontosaurus skeleton, among other wonders. Conveniently, both locations are free of charge!
Once the campus has been explored, take a step back in time with a variety of self-guided and interactive tours developed by the Albany County Tourism Board that will help one learn more about Laramie's roots. For example, after the town was founded in 1868, Laramie became home to a number of notorious criminals who were looking to escape the law. Walking through this historic downtown, one soon discovers the location of Laramie's first jail – once home to Calamity Jane. There's also Lovejoy's Novelty Works where Wyoming's first automobile was built. And on the brand new interactive tour, QR codes can be scanned on smartphones to pull up information and videos depicting a Wild West-era shootout and the origins of rodeo in Laramie.
Of course, no trip to Laramie would be complete without some traditional Wyoming favorites like the Cavalryman Supper Club. The restaurant is located on the parade grounds of historic Fort Sanders and features a menu that includes buffalo steaks, prime rib, fresh seafood and much more. Try a Wyoming staple, the original soda bread, discovered by the Native Americans and adopted by the Irish as a start to an authentic culinary experience. With everything to do and see in Laramie there is no reason to wait! Convenient direct United Express flights operated by SkyWest Airlines are available every day from Denver. Book now at www.united.com, where the lowest fares are always found