SkyWest people are constantly looking for ways to provide outstanding service, even outside of their normal daily work responsibilities. Recently, customer Maurice Griffin was connecting to a SkyWest flight in Atlanta and experienced this hallmark service for himself after Maddie Dougherty, an Atlanta-based flight attendant supervisor, went out of her way to help him get to his flight. Mr. Griffin wrote the following heartwarming letter thanking Maddie for her extra care and compassion.
---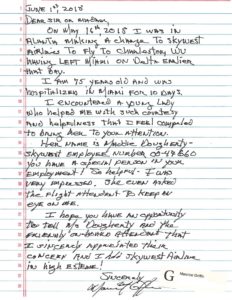 Dear Sir or Madam,  
On May 16, 2018, I was in Atlanta making a change to SkyWest Airlines to fly to Charleston, Virginia, having left Miami on Delta earlier that day.
I am 75 years old and was hospitalized in Miami for 10 days. I encountered a young lady who helped me with such courtesy and helpfulness that I feel compelled to bring her to your attention. Her name is Maddie Dougherty. You have a special person in your employment! So helpful — I was very impressed. She even asked the flight attendant to keep an eye on me.
I hope you have the opportunity to tell Ms. Dougherty and the friendly onboard attendant that I sincerely appreciated their concern and I hold SkyWest Airlines in high esteem!
Sincerely, Maurice Griffin    
---
Thank you, Maddie, for your care and kindness in helping Mr. Griffin and the countless other customers you help on a daily basis.
Maddie is just one of the many awesome examples of SkyWest people making a positive difference. Read more stories of our incredible people here.
Interested in joining the SkyWest team? Find out more information at www.skywest.com/careers.