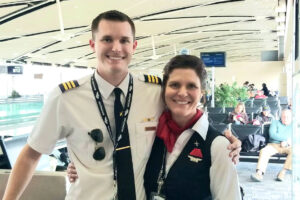 "Mom, secure the cabin."
Trenton Crull's announcement from the flight deck was a moment a lifetime in the making and a thrill for both him and his mom.
"I've had the privilege to fly both my mom and dad while they were passengers on my flight before, but being able to work with my mom as the flight attendant was pretty special," said Trenton. "Being able to say, 'Mom secure the cabin' just made it all that more meaningful."
Trenton is a SkyWest CRJ captain based in Colorado Springs, Colorado (COS) and Melodee Crull is a flight attendant based in Minneapolis, Minnesota (MSP), so the opportunity to work flight 4037 between Minneapolis and Bismarck, North Dakota together earlier this year was a rare treat.
"I told my passengers they were part of a very unique flight, as my son was one of the pilots and we were working our first flight together. 'Mom, secure the cabin' definitely brought laughter from the passengers," said Melodee. "As I sat in the jumpseat upon takeoff, it was hard not to tear up thinking about my son flying the plane that I was working as a flight attendant. It's not often that so many dreams come true in one day!"
Mother and son have crossed paths a few times since Trenton's early days at SkyWest when he was stationed in Detroit, Michigan (DTW). Once Trenton moved to COS, their schedules got more difficult to coordinate.
"I have wanted to do this since I found out Trenton was joining me at SkyWest in November of 2017. Believe me, we've tried several times to get things to work out," said Melodee.
"Luckily I had three weeks off waiting for my captain Initial Operating Experience and I found a trip to pick up in MSP," added Trenton. "There was already a flight attendant on it, but my mom messaged her and worked it out to get on that trip."
Melodee attributes her love of airplanes to her father, who worked at Cessna and Boeing in Wichita, Kansas when she was young. Being a flight attendant was always her dream, but for several years she filled her life with caring for a family. In 2017, the perfect opportunity came for Melodee to revive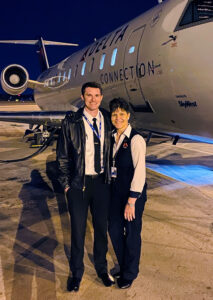 her childhood dream and she interviewed with SkyWest.
"I love my crews. I have made so many great friends and anyone who has flown with me knows, I am a bit of a comedian and love to joke around and have fun. I also love interacting with my passengers! I have so much fun kidding around with them," said Melodee. "I love that SkyWest has provided the opportunity to visit places I would otherwise never have got to visit."
Her happiness at SkyWest influenced Trenton's decision to come to SkyWest as well.
Melodee remembers her son aspired to be a pilot as early as the 2nd grade. A local pilot in the Crull's hometown would take kids up on a flight as a reward for completing a school reading program every year and Trenton got to fly with him a few times.
"After that first flight I was hooked. I loved flying, but I didn't know how to make it a career," said Trenton. "It wasn't until after I graduated high school that I started looking at how to pursue aviation as a career."
Trenton completed flight training at the University of Central Missouri. He taught there for about a year after earning his certifications and then took a job flying private jets in St. Louis. When he earned the flight hours and experience to move to a regional airline, and with some urging from his mom, he applied at SkyWest.
"I remember texting him and saying, 'YOU HAVE TO APPLY WITH SKYWEST! This company is amazing,'" recalled Melodee.
"She talked highly of SkyWest as a company and how fun the crews were and it was then that I started looking more in-depth at it," said Trenton. "She was a big factor in my decision to come to SkyWest."
"Trenton has recently finished his upgrade to captain and I couldn't be more proud," said Melodee. "He is a great person, with compassion for people and he truly loves his career, that's what makes him a great pilot. I would be honored to fly with this captain any day."
Thank you to all the moms like Melodee who inspire us to pursue our dreams in the aviation industry.