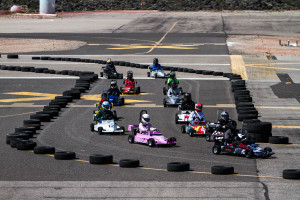 Checkered flags, pit crews, competitive drivers, fierce turns and racing speeds up to 23.5 miles per hour were just a few of the exciting elements at SkyWest Airlines' thirteenth annual Mini Indy!
This March, teams from around the world met at the airline's hometown of St. George, Utah to race head-to-head in fierce go-cart competitions, raising money for United Way Dixie and the SkyWest Scholarship Fund.  To date, this fiercely popular event has raised nearly one million dollars for United Way Dixie charities.
Of the 35 teams that competed in the race, four were composed of SkyWest employees. Known throughout the company as RAVE (Recognizing A Valuable Employee) Team racers, these twenty employees were nominated by their leaders and peers to represent SkyWest in the Mini Indy based on their dedication to the airline, our passengers and fellow employees.
"I was ecstatic to find out I was selected to represent SkyWest in the Mini Indy," said Kari Tate, RAVE Team #00 member and SkyWest benefits manager. "This opportunity was something that goes far beyond a pat on the back or 'atta-girl.' I was noticed, selected and appreciated! And being able to put my competitive nature into action through this competition was simply awesome!"
The SkyWest RAVE Teams held their own against 13-year veteran teams; RAVE team #94 competed in the finals for the Pit Stop Competition and placed third in both the Best Theme and Best-Looking Car categories, and RAVE Team #00 competed in the championship heat of the race!
After the final checkered flag was waved, Team Wencor Group/Trelleborg took home the title of Grand Champion – for the second year in a row!
And though many of the teams may already be looking ahead and strategizing for Mini Indy 2014, the funds raised through this year's event will be continue to aid those in need for quite some time, as United Way Dixie utilizes the money to help those in need.
"The annual Mini Indy event allows SkyWest to contribute to local charities through United Way Dixie, an organization that helps offer a better life for children and families in poverty, abuse victims and many others in the community in need of support," said SkyWest President and COO, Chip Childs.
For more about Mini Indy or details on the 2013 race, visit www.miniindy.org.