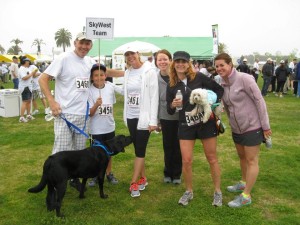 Patrick Altree, a SkyWest Airlines employee based in Phoenix, Ariz. first noticed a problem as he was pouring himself a glass of soda. That simple, routine task became a significant turning point when his right hand began to wobble uncontrollably. Soon after, he noticed trouble trying to eat soup or cereal, and his handwriting deteriorated to a scribble.
Patrick said, "I thought it was just stress or caffeine, and that it can't be anything serious."
After some encouragement, Patrick scheduled an appointment with a local neurologist. He was asked to perform basic tasks like opening and closing his hands, and walking down the hall. That's when his doctor noticed that Patrick didn't move his right arm as he walked. Following some additional testing, Patrick was received his diagnosis: Parkinson's disease – a chronic, progressive neurological disorder characterized by tremors and general slowing.
"To say I was stunned would be a huge understatement," said Patrick. At 38 when he was diagnosed, Patrick never imagined he would be living with a disease that normally affects those in their 60s.
"Parkinson's has taught me a lot about priorities and the strength of the human spirit," said Patrick. "Most importantly, I try to live a normal life."
Patrick is also finding ways to fight back, especially when it comes to raising awareness and money to fund research. For the last two years, he has helped organize his SkyWest colleagues to participate in the Step by Step 5K Walk/Fun Run in San Diego. The annual event, sponsored by the Parkinson's Association of San Diego, provides an opportunity for thousands to learn the latest about Parkinson's medicine and research, and to find resources to improve their health and fitness. So far, team SkyWest has raised more than $8,000 by participating in the 5K and Patrick is hoping to raise an additional $10,000 this year!
SkyWest Airlines' commitment to give back to the communities they serve is exemplified by their people in action. Patrick Altree and his dedication is a shining example of the passion and selflessness that is shared by more than 10,500 SkyWest employees share across the United States.
Catch Patrick and the SkyWest team in action this year on Saturday, April 12 at Liberty Station in San Diego, or visit the Team SkyWest page to learn how you can support their efforts!