When planning a trip to an exotic destination like Costa Rica, most people don't think about packing their bags with 200 lbs. of paper, folders, coloring books, calculators, soccer balls, shampoo, stuffed animals and hair accessories. That is, unless they are SkyWest Director of Flight Operations Bill Mostowy and his wife, Brandi Mostowy, a Flight Operations Facilitator.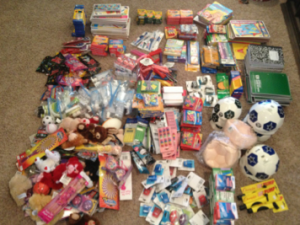 The idea for the unusual luggage started roughly two years ago when the couple traveled to Costa Rica to vacation and visit family members in Tamarindo. While enjoying the beautiful country, zip-lining and playing in the surf, they noticed a drastic difference between the tourist areas and back-country villages.
"We saw elementary schools that lacked basic necessities like running water, air conditioning, books, restrooms, paper, pencils and other supplies that any school should have," said Bill. "And after that first trip, we knew we couldn't return without bringing as many supplies and donations as we could carry."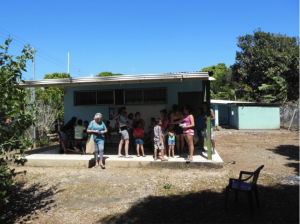 To help meet their goal, Bill and Brandi solicited donations from friends, family and their SkyWest coworkers who are always eager to help with these types of efforts. In fact, they finally had to stop taking donations because they simply ran out of room from all of the tremendous support.
After arriving in Liberia, Costa Rica, they traveled to the coastal town of Tamarindo. And while they thought they had carefully accounted for everything, the Mostowys quickly realized that the school year in Costa Rica had not yet begun and the schools were closed. Thankfully, two friends managed to contact school officials to arrange for someone to meet the group at the school to receive the supplies.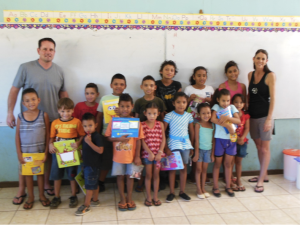 "As we drove up to the school, we were shocked to see nearly every student waiting for us," said Brandi. ""It was hard to tell who was most excited, us, or the 15 students and their parents."
After their initial shyness evaporated, the kids welcomed them and peppered them with questions, which they eagerly answered through the help of their translators. In addition to all of the school supplies, each child was also given a gift bag and had a chance to put together some SkyWest paper airplanes.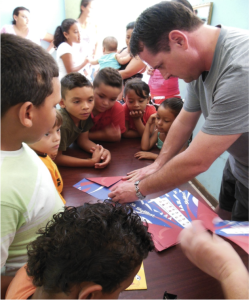 "It was truly an amazing experience to see how something so simple could bring so much happiness," said the couple.
And Brandi and Bill didn't just stop there. In addition to their trip to Escuela Linderos, they set aside supplies and toys for another charitable program called Casa Luz, located in San Jose. Casa Luz is a haven for adolescent mothers who have come out of abusive situations or extreme poverty. It was established in 2003 by Canadians, Eldon and Lori Cooke, who felt the need to help these exploited adolescents and their children.
Bill and Brandi both say they're grateful for all of the support they experienced in putting together this humanitarian trip and are planning to organize another effort soon.
The care and compassion demonstrated by Bill and Brandi is also shared by many of the other 10,500 employees working at SkyWest Airlines. They are committed to going above and beyond, to help in the communities where they live and work. To learn more about SkyWest Airlines, visit www.skywest.com.