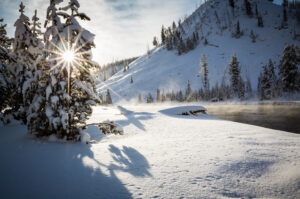 Hearing the words "West Yellowstone" immediately brings to mind Yellowstone National Park and all the beauty that it holds. West Yellowstone was incorporated in 1966 but has existed as a gateway to Yellowstone National Park since the early 1900s welcoming 3.5 million people each year. And, it's no surprise! Yellowstone National Park spans approximately 2.2 million acres, and offers more than 300 thermal features and 200 waterfalls. It is truly a captivating place where the surroundings seem larger than life and shape a huge outdoor playground waiting to be conquered.
The early summer is a fabulous time around West Yellowstone. Visitors can take advantage of the trails in the Gallatin National Forests, as well as, scenic drives, wildlife watching and unmatched photographic opportunities. Caution is suggested as grizzly bears are common in the Greater Yellowstone area.
Of course, a trip to Yellowstone National park wouldn't be complete without a stop at Old Faithful. Imagine sitting on a bench watching Old Faithful erupt and taking in the awe-inspiring beauty of the snow-covered mountains in the background. The iconic geyser spews anywhere from 3,700 to 8,400 gallons of water into the air each time it erupts, reaching heights of 106-184 feet. Each blast lasts between 1.5 to 5 minutes. But don't get too close. The water temperature at the vent has been measured at 204 degrees Fahrenheit and the steam temperature can top more than 350 degrees Fahrenheit!
Don't forget about the variety of other geysers and mud pots, forests and lakes, historic cabins and prehistoric sites, along with the enormous bison that seem to be everywhere. With so much to see and do, be sure to spend a few days to take it all in. If possible, start the day early in the morning, which is the best time to see all the wildlife on the move near the rivers and streams. Outdoor enthusiast's high expectations will be met at every bend.
For those wanting something a little less adventurous, be sure to visit the Grizzly & Wolf Discovery Center. This unique facility provides a grand opportunity to experience the world of grizzly bears and gray wolves up close and personal in a safe environment. In town, visitors can also take the Historic Walking Tour by following the green Bear Paw Trail that's painted on the sidewalk. It's a great way to relive the early years of West Yellowstone.
After a day of exploring the park and surrounding area, an amazing place to stay is one of the new, unique Explorer Cabins at Yellowstone. Families, couples and groups will have a one-of-a-kind vacation experience in a casual setting.  Unlike a typical hotel, guests will enjoy sitting by a cozy fireplace and relishing in all the comforts of home in a private cabin. For dinner, the Branch Restaurant is a great open-range cuisine restaurant where beef and game dishes are infused with local flavor and served alongside a selection of regional microbrews and hand-crafted premium cocktails. And to finish it all off, enjoy some good old-fashioned S'mores provided free of charge to all Explorer Cabin guests.
Seasonal SkyWest flights, operating as Delta Connection, are available every day from Salt Lake City to West Yellowstone (WYS) making it incredibly easy to fill the need for the great outdoors. Book an exciting vacation today by visiting www.Delta.com.