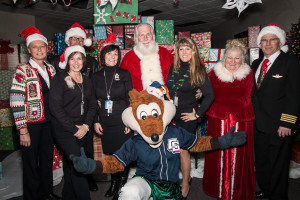 On Saturday night, the SkyWest team in Colorado Springs (COS) and members from the community transformed part of the airport terminal into a dream come true for 50 children and their families for the seventh annual SkyWest Fantasy Flight! Children aboard the Fantasy Flight are enrolled in one of CPCD's early childhood education programs. These children live at or below the federal poverty level, have an identified special need, or have a fragile home situation that puts them at risk for school failure.
The evening started with dinner, hob knobbing with Olympians and goofing around with Sox the Fox mascot! Once the plane arrived, the little passengers showed their boarding passes and were ushered into their seats to experience the miracle of flight for the first time.
"I have wanted to participate in this flight for a couple years now," said COS CRJ Captain Bruce Paris.
"It really is an honor!" chimed in COS CRJ First Officer Kevin Scott.
The excitement was palpable as the kids fell silent and stared out the windows for takeoff. Once in the air, the flight attendants sung cheerfully (although not always in tune) and encouraged the kids to sing along.
After a joy-filled 30-minute flight full of song and laughter, the plane landed at the North Pole (otherwise known as a different area of the airport)! There, the kids were greeted by Santa Claus himself (and Mrs. Claus!) and enjoyed opening presents, eating cookies and playing games. One little girl summed up the event with a single statement, "This was the best Christmas ever!"
A lot of hard work and planning goes into every aspect of the flight. Right down to getting the fuel donated and making intricate snowflakes to decorate North Pole. But if you ask Jamie Young, SkyWest's COS General Manager, the planning is just a small part of the big picture. "Seeing the kids and the parents enjoy the event makes it all worth it!" she said.
Thank you to the entire SkyWest COS team, dispatch, maintenance and crew members, and many others who volunteered their time in order to make the event happen. You truly exemplify the SkyWest spirit of giving and what the holiday season is all about!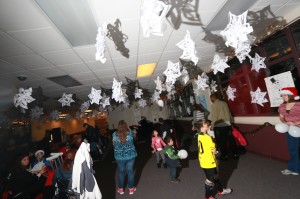 Interesting side note: In order to decorate the terminal, brand new snowflakes were handmade because last year's snowflakes were donated to Sandy Hook Elementary in the wake of the tragic shooting. Last year, the COS team sent 200 snowflakes to Sandy Hook, Conn. where they were hung in the gymnasium during the Sandy Hook Elementary Snow Flake Drive.