During a flight from Oklahoma City to Houston, SkyWest Flight Attendant Antonio Cromwell didn't think anything of it when he sat on the floor to assist a passenger sitting in first class.
Later that night, his phone started buzzing with texts and calls from family and friends telling him that he had gone viral.
"At first, I thought people were joking with me, then I had coworkers reaching out and I knew something was up," said Antonio.
The Chicago-based flight attendant did indeed go viral when a passenger snapped a photo of him playing Pokémon with a young boy to keep him entertained on a flight.
"A father and son boarded the plane and they didn't have seats together," said Antonio. "The father asked if his son could sit at the front so that a flight attendant could watch over him during the flight. It wasn't a big deal and I was happy to help."
View this post on Instagram
Before takeoff, Antonio introduced himself and talked with the boy to see what his entertainment plans were for the flight. The boy mentioned that he was looking forward to playing an online game against his cousin.
Knowing the boy would need to purchase internet to play his game online, Antonio asked him if he had anything else to play with that didn't require an internet connection.
To Antonio's surprise, the boy pulled out Pokémon cards and the rest was history.
"I was more excited than he was when he pulled out his Pokémon cards," Antonio quipped. "When I was a kid, collecting Pokémon cards was a big deal and I didn't realize that kids still did that. We talked about our collections and then I told him I would be back in a bit so that I could serve and help other passengers."
After attending to other passengers, Antonio noticed the boy still wanted to play games online against his cousin. Without hesitation, Antonio went ahead and purchased the internet for him so that he could play.
"Seeing him having fun and playing with his cousin… that's what it's all about," said Antonio. "I was just doing my job and didn't think it was anything special. I always try to provide great customer service."
"Antonio is a wonderful example of core4 and really even beyond that level of caring," added Sarah Murphy, SVP of United Express. "Truly a bright star!"
At the end of the flight and as the family deplaned, the boy told Antonio that the next time they are on his route, he'll be sure to bring him some Pokémon cards.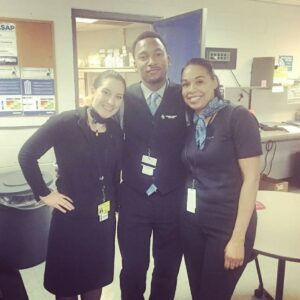 "I'm going to hold him to it," Antonio said laughing. "But honestly, it was great to make someone's day and that's why I love my job."
The Chicago-based flight attendant is grateful for the opportunity to be a flight attendant and to follow in his aunt's footsteps.
"I had an aunt who was a flight attendant for more than 30 years," he said. "She would commute to Chicago and I would get to ride with her to and from the airport sometimes. When she finished her trips, she would tell me about her experiences, places she's gone and the people she met. It sounded like the dream job and was something that I wanted to do."
Coming up on his five-year work anniversary, Antonio is thankful he took a chance and followed his heart to become a flight attendant.
"I'm so blessed to have come to SkyWest," he said. "It's been amazing and the past five years have flown by. I've made so many friends and love interacting with passengers and having positive experiences. I've had a bunch of jobs over the years and being a flight attendant is the first time that I can truly say that I love going to work every day."
When asked what advice he has for people thinking about an aviation career, Antonio replied: "Do it! It's not your typical 9-5 job, but that's what makes it so great. It's a different lifestyle and I love it. My only regret is that I did not become a flight attendant sooner."
Make an impact and join SkyWest's amazing team today.