SkyWest flight attendants cross paths with countless passengers from a wide variety of backgrounds and circumstances. That extensive background is what made unaccompanied minor Janiyah stand out to Chicago-based flight attendant Tina Meeke on a recent flight.
"I'll never forget the feeling of sadness as she walked towards me. She looked a little nervous, and had nothing but a tiny drawstring backpack that laid flat to her back. Her clothing appeared unkempt."
Tina briefed Janiyah individually about the flight, as required for all unaccompanied minors, and asked whether she had the United Airlines app so she could watch movies throughout the flight. Janiyah responded that her mom had taken away her phone and that all she had were the clothes on her back.
When Tina prodded, Janiyah then explained that she was moving in with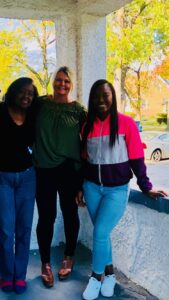 her great grandmother because she and her mom could "no longer live together".
SkyWest flight attendants are extensively trained to identify and report abuse or trafficking, and with that training background and after learning Janiyah was on her first flight with a one-way ticket, Tina says a red flag came to mind.
"At first I thought it was a human trafficking situation," admitted Tina.
However, before the door closed, Janiyah asked Tina if she could use her phone to call her friends. She said they did not know she was moving because of the sudden nature of her departure.
Tina's heart ached for the young girl. She made a conscious effort to brighten Janiyah's day, if only for the flight. She checked on her regularly and ensured Janiyah received a First Class snack box, delivered with a personalized note card.
"I wrote her a little note telling her how special she was, and that we were honored to have her on our flight. I also gave her my contact information in case she needed to reach out to me."
After deplaning, Tina walked with Janiyah to meet her great grandma. On their walk, Janiyah mentioned she hoped her grandmother could get her some clothes because she only had what she was wearing. Tina reminded Janiyah of her contact information and told her grandmother that she would like to help get her started with some clothes and school supplies.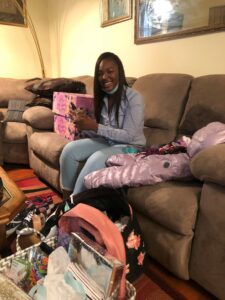 Tina was so affected by her interaction with Janiyah that she decided to share how she was inspired to help one of her passengers that day. Almost immediately, she began to hear from her friends and SkyWest colleagues asking if there was something they could do to help. "I was overwhelmed with the amount of SkyWest people who came forward and wanted to help our passenger," Tina said.
Within hours, 93 people had donated over $4,000 for Janiyah, many of them from SkyWest.
"All of this was happening at the height of airline uncertainty due to COVID-19, but we are one big family," said Tina.
A few days later, Tina made arrangements to take Janiyah shopping for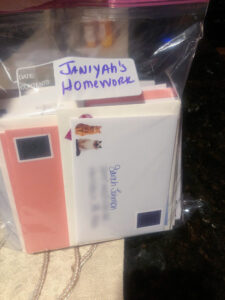 supplies. The two had a wonderful outing, purchasing school supplies, clothes, shoes, and a computer and phone with a 1 year of prepaid calling. In addition, several packaged gifts and over $500 in nonperishable food items were delivered to Janiyah.
Tina also collected the names and addresses of everyone who donated or provided supplies. She gave Janiyah pre-addressed envelopes to write thank you cards to the people who helped make it all possible. Within two days, Janiyah had written a thank you note to everyone on the list. Her joy and gratitude was profound.
"I'm so grateful for the opportunity I had to help someone else," says Tina.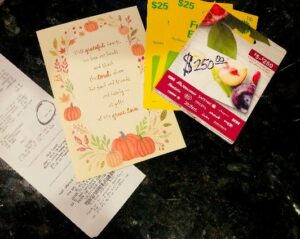 Tina's unexpected connection with Janiyah may seem out of the ordinary, but SkyWest people are known for extraordinary service and compassion.
We are family, but we also care about our passengers," she said. "SkyWest is just different; everyone looks for ways to step in to help others."