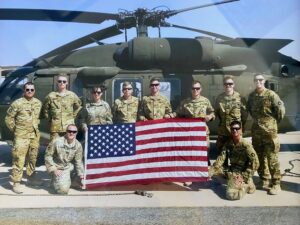 The 34th Expeditionary Combat Aviation Brigade recently returned to Minnesota after being deployed for 10 months in the Middle East. There they flew a variety of missions in Iraq, Kuwait, and Syria and faced a number of challenging conditions.
Among the many brave women and men in the brigade are 10 SkyWest pilots. Knowing how challenging a deployment can be and the many questions that can come up while away from work, leaders and other teams at SkyWest went out of their way to keep these pilots updated and informed.
"SkyWest was super supportive, even with COVID-19 they still reached out and helped us," said Auggie Peck, a CRJ first officer based in Minneapolis (MSP).
To help show their appreciation for the support they received, Auggie and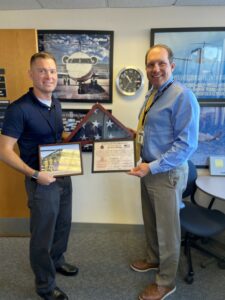 the team made arrangements to bring back two flags that were flown during their deployment. On the certificate of authenticity, it points out that the flag was flown onboard a UH-60 Blackhawk during a three-day combat mission, one of the longest missions of the deployment.
"It's hard being deployed, but SkyWest kept caring," said Auggie. "We wanted to just say thank you."
Auggie delivered the flags to Captain Chris Mayer, SkyWest's chief pilot in MSP and a fellow Veteran, earlier this month. One will be displayed in MSP and the other will be presented at SkyWest's headquarters in St. George, Utah.
"Auggie told me what he had planned to do while he was on deployment, but it was an emotional moment seeing the pride on his face when he brought them into the office," said Mayer.
Mayer, who helped provide many of the updates the pilots received while overseas, says he just wished he could've done more to let them know they are supported.
"SkyWest is home to many incredible people," said Mayer. "Freedom isn't free and it's important with a deployment that you feel supported."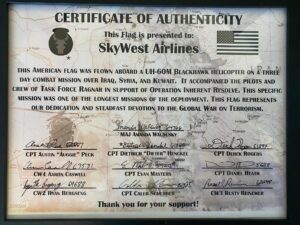 Thank you to Auggie and all those serving with you, for your sacrifices and the work you do for our Nation. SkyWest is home to more than 1,500 active military members and Veterans and we are grateful for their service.