Sam Capitan, Flight Attendant, SLC
Sam Capitan is a member of the Navajo Nation. He has been flying with SkyWest since 2019 and is based in Salt Lake City (SLC) as a flight attendant. He loves the aviation industry and hopes to eventually become a pilot.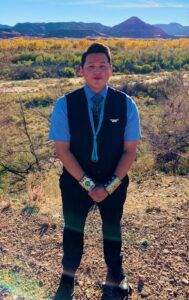 "I am proud to be Navajo," said Capitan. "Unfortunately, a lot of tribes have gone extinct. However, there are numerous Native American Tribes still in existence. This demonstrates the resilience of our People."
Capitan enjoys learning from his heritage and ancestry so he can preserve the knowledge to pass teachings down to future generations.
Capitan credits his adaptability and lessons learned from his heritage for why he has been successful as a flight attendant. Any time he faces an issue, he makes sure to overcome the problem with attentive listening and responding appropriately.
"A positive attitude will conquer any situation," said Capitan. "One important aspect about the Navajo culture is doing everything we can to maintain harmony on Mother Earth. On a day-to-day basis, I find ways to be a positive force in all that I do."
Growing up, Capitan was taught to live in harmony with Mother Earth, Father Sky, and the many other elements in the world such as people, animals, plants, and insects.
"I apply my family's teaching of unity at SkyWest; we are all one People. At SkyWest, we work together to bring friends and family together."
Capitan noted that SkyWest team members accomplish great things every day working together. He loves learning about and working with different workgroups across the operation.
"This industry gives you a chance to try something new and become well connected. It's a perfect career to learn a new skill and be in places you never thought of visiting," said Capitan.
Craig Strongbow, Cross Utilized Agent, PIH
Strongbow is a cross utilized agent in Pocatello, Idaho (PIH). He is also a proud member of the Shoshone- Bannock Tribes.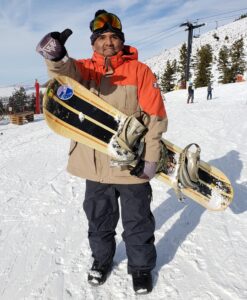 "I am a Native," said Strongbow, who said that is how he thinks of himself. "I can't imagine being anything different. Natives are tough and persistent. I love my culture and what it represents; it's different. It's not often one hears about Natives, we are a very small minority." 
Strongbow started his SkyWest journey in 2017 after running into a former high school classmate while he was shopping. She had just returned from a trip to Ireland. Her travel experience and enjoyment for her work at the PIH station convinced Strongbow to apply to SkyWest as soon as there was an opening.
"We are all family at PIH; we go to each other's birthdays, and events, and even have a book club," said Strongbow. "The benefits we get working at SkyWest make even the hard stuff we do so worth it. Our station has a great connection."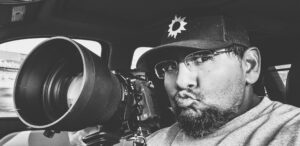 Strongbow is known for being a hard worker in life and has been successful in his many pursuits, including fashion photography, where he was sponsored by Nikon, and as a state champion football coach. Strongbow also enjoys going to powwows and finds his background in fashion photography allows him to capture his culture through his art.  
Strongbow feels inspired to share his culture with all those he meets. 
"I take pride in my culture, my heritage, and the spirituality of how we perceive the world," said Strongbow. "I hope to pass that on to future generations."