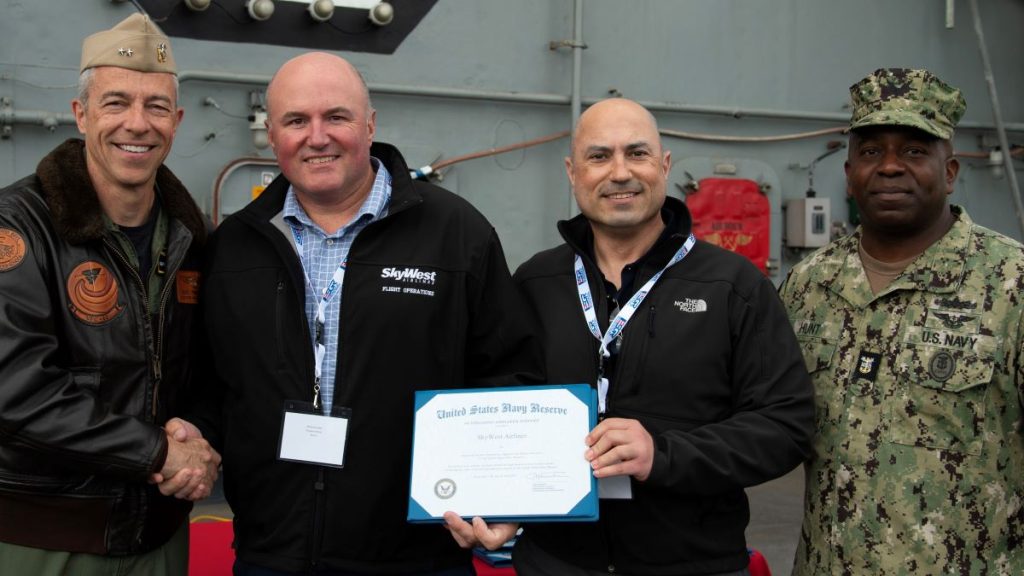 SkyWest was recently recognized by the U.S. Navy as one of America's outstanding Navy Reserve employers. We were nominated for the award by a current SkyWest employee for the support we provide to Veterans and reservists.
"We honor and recognize the many employers who support our Citizen Sailors, who are often called upon to leave their families and civilian jobs on short notice," said Vice Adm. John B. Mustin, Chief of Navy Reserve and Commander, Navy Reserve Force.
SkyWest Chief Pilot Makenzie Meek and Assistant Chief Pilot Jorge Yepiz attended the Navy Employer Recognition Event in San Diego and accepted the award on behalf of SkyWest.
SkyWest is home to nearly 1,500 men and women who have or are still serving in the U.S. armed forces. We are proud of their service and look forward to seeing even more bring their incredible skills to our team in the future. SkyWest provides military pilots who have a DD214 form a $7,500 bonus, and we offer a Rotor Transition Program (RTP) for military rotor pilots to enter the commercial aviation industry. Through this program, pilots begin accruing company seniority, receive an enhanced introduction to SkyWest, have access to mentors and interview prep, and are eligible for up to $25,000 in bonuses and tuition reimbursement.