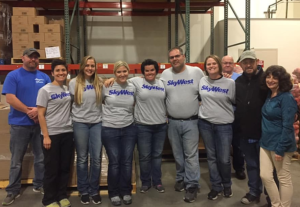 The SkyWest customer service team in Lewiston, Idaho (LWS) is giving back to the community this season by donating their time at the Idaho Food Bank.
The team of 11 leveraged their teamwork to categorize and assemble food, sorting over 2,300 pounds of food during their first visit. While they're generally working together to provide exceptional service, load bags and marshal aircraft, this group of agents put their teamwork skills together in a different way: helping to feed over 1,695 people across Idaho.
"This was our first time volunteering together as a team," said LWS Customer Service Supervisor Angie Stegner. "We enjoyed it so much that we will definitely be looking for other opportunities in our community to serve."
The team has already scheduled their return to the food bank in November, December and January and are looking to find more opportunities to serve in the coming months.
"This time of year is hard enough as it is, and the idea that we were helping to feed people and provide a basic human need was incredibly gratifying," said Angie. "I think we all get so wrapped up in our own blessings that we forget that a box of canned food can mean everything to someone. It was a humbling experience."
"We have a great chemistry here in LWS," continued Angie, "but sharing that with our community made us feel more like a family."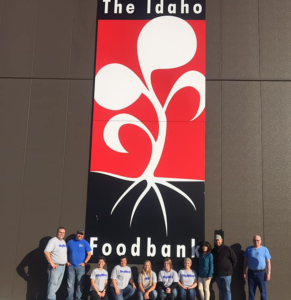 Great job team LWS! If you are interested in joining a team like the one in LWS, click here.