SkyWest people are continually finding ways to give back to their communities. The Spirit of SkyWest: Our People in Action program supports dozens of charitable 501(c)(3) causes employees are passionate about. Through this program, SkyWest and its people have donated to over 40 organizations nationwide — and that's just one of the many positive ways SkyWest people are contributing in the areas where they live and work.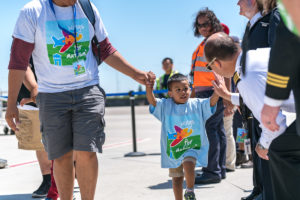 This year SkyWest people improved their communities in so many ways including: donating time at local food banks; bringing the miracle of flight with Wings for Autism events in Boise, Idaho; Jacksonville, North Carolina and Fresno, California; volunteering with Civil Air Patrol and giving back to young aviators; raising money for The Special Olympics by pulling an aircraft weighing nearly 180,000 pounds; Supporting the fight against Breast Cancer; Participating in local Big Brothers and Big Sisters programs; and Supporting Habitat for Humanity builds in multiple locations.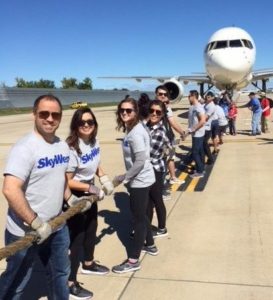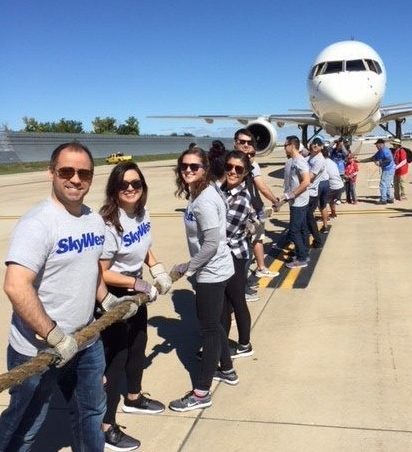 The year of giving doesn't stop there. Through our largest charity event, the Mini Indy, SkyWest people raised over $70,000 for United Way and provided SkyWest Scholarship funds to over 100 outstanding students. They also banded together in relief efforts to help SkyWest's own who have been impacted by fires and other unforeseen tragedies. And in the upcoming month, SkyWest will be hosting their annual flight to the North Pole for children in need and holding their annual fundraiser for the Utah Food Bank! While together our teams provide an impeccable travel experience in the air, SkyWest people are contributing far beyond their jobs every day in their communities.
Read more stories about SkyWest People Making a Difference. Learn about joining the SkyWest team.